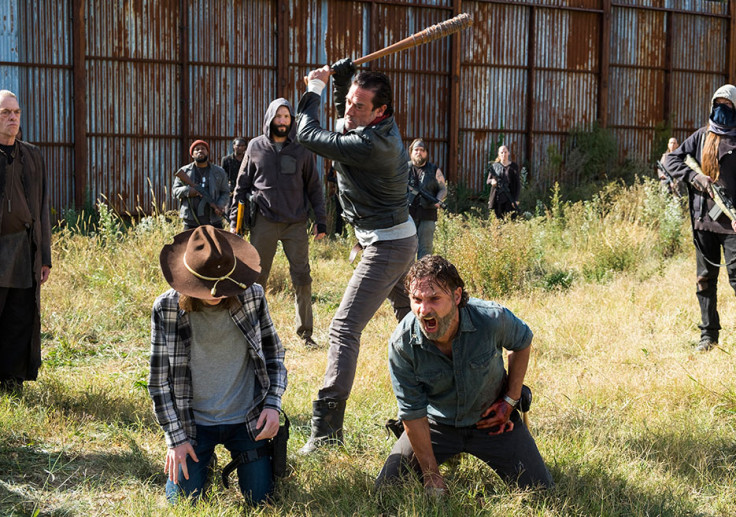 The premiere episode of the Walking Dead season 8 will be the 100thepisode of the zombie thriller, which is scheduled to air in October of 2017. Ahead of the premiere, showrunner Scott Gimple has teased that the upcoming season will narrate a "kinetic" story and will proceed at "breakneck" speed shifting between storylines.
There is a war brewing in the zombie infected land and the Saviors have teamed up with the Scavengers to arm themselves against the Alexandrians, Hilltop and the Kingdom. According to Gimple, the group's battle will bring in an "intense conflict" in AMC's post-apocalyptic drama. He told Entertainment Weekly, "...by virtue of the fact that the narrative has turned into one of pretty intense conflict."
In the season finale, Leader of the Scavengers, Jadis, ditched Rick Grimes just before the war, which allowed Negan to defeat the Alexandrians. But his plans to smash Rick and Carl's head were ruined by Shiva, the pet tiger of King Ezekiel – the leader of the Kingdom. Soon the Hilltop joined Rick and company and the teams successfully ousted the Savior's from their territory.
But the war did not end there. Rick and his alliance now need to plan better strategies to keep their families safe from the deadly gangs. The seventh season of the series was slammed by both fans and critics for its sluggish script that focussed on only one character for an entire hour.
Gimple believes that the addition of multiple groups and lead characters gives better scope for the show to narrate a better story by breaking each character's story into pieces. "It's going to affect the structure in ways that make it a bit more kinetic, a bit more breakneck — shifting away from entire stories in one episode, and sort of fractured over several episodes, with little pieces of each story coming together," he said.
The showrunner had earlier hinted at the series could see a two or five-year time jump after the events of the season 7 finale with "super interesting" flashbacks. The show has now added two new characters who are supposed to help Rick in the battle for survival.
TV Line reports that the characters will be highly skilled as they have been on their own for some time now. The website described the newest entries as: "Dillon, a sexy, blue-collar twenty-something whose survival skills include sarcasm, and Abbud, an innately likable Muslim American whose nerves are, let's say, jangled because he's flown solo for too long in zombieland."