Unidentified warplanes have carried out intense air strikes on rebel-held residential suburbs in the Syrian capital Damascus, killing dozens of people including children, monitoring groups have claimed. The air strikes are understood to have targeted a school district in the town of Douma, 10 miles north-east of the war-torn capital, leaving at least two children and a school principal dead.
The Syrian Observatory for Human Rights said the air strikes coincided with multiple surface-to-surface missile attacks in the area, which were carried out by members of the Syrian Arab Army loyal to embattled president Bashar al-Assad. The besieged Damascus suburb of Eastern Ghouta is said to have been among the areas worst hit by the ground assault.
Humanitarian rescue group Syrian Civil Defence said the death toll had hit at least 35, with many more suffering serious injuries. The group – which mainly operates in rebel-held areas – also used social media to distribute a graphic image of a dead baby that had suffered a severe head wound.
Meanwhile, a spokesman for the local Southern Front division of the Free Syrian Army rebel group claimed the death toll was closer to 60 in Douma alone. Issam al-Rayyes added that the ground and air assault started in the early hours of this morning.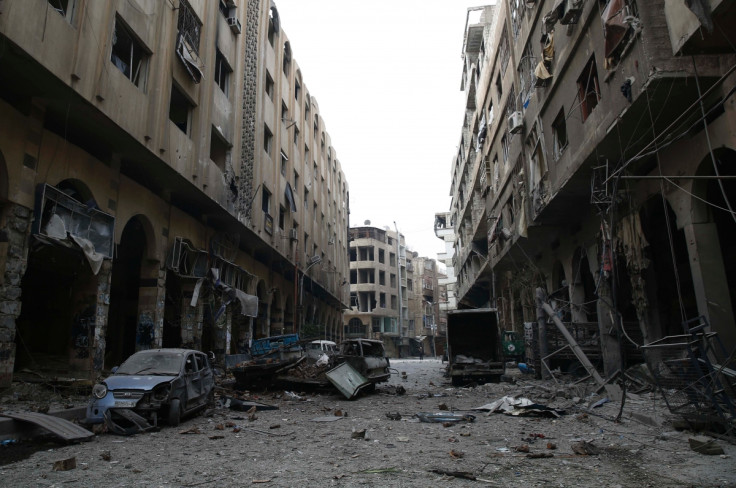 An inconsistent death toll is a common problem amid the chaos of war-ravaged Syria, where somewhere between 200,000-400,000 people have been killed in a conflict that has last close to five years, and continues to escalate on an almost daily basis. A further 10 million people have been displaced – a figure underscored by the fact Syria's total population was just 17 million in July 2014.
The areas targeted in today's assaults are among the worst hit neighbourhoods in the entire country, with many locals having fled their homes in the hope of finding a more peaceful existence in nearby rural areas. The Syrian Observatory for Human Rights said that rebel groups responded to the attacks by firing rockets into regime-controlled areas of Damascus, killing a child and wounding several other people.
The Assad-controlled SANA news agency claimed that the rebel strikes had actually killed three civilians and wounded 30, with the majority of the victims being students at a nearby school.