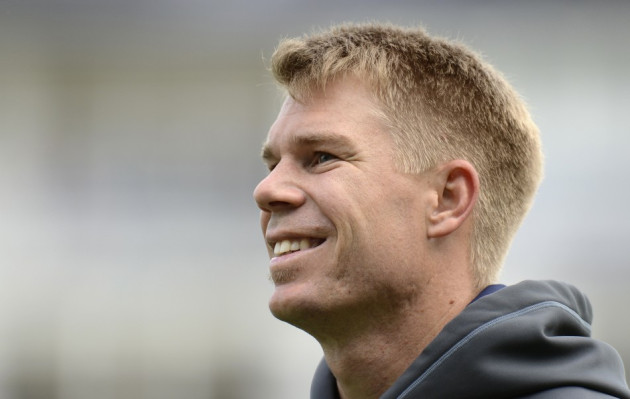 David Warner has escaped being thrown out of Australia's Ashes squad but will miss the rest of the Champions Trophy after an alleged attack on England batsman Joe Root.
Warner has been banned up until the first test against England at Trent Bridge starting on 10 July, missing the remainder of Australia's Champions Trophy campaign, which sees them face Sri Lanka on Monday, as well as the two tour games against Somerset and Worcestershire.
The 26 year old has also been fined $11,500 following a Cricket Australia hearing conducted via a teleconference with behaviour commissioner The Hon Justice Gordon Lewis.
A Cricket Australia statement said: "Warner pleaded guilty to breaching Rule 6: Unbecoming Behaviour. CA Senior Code of Behaviour Commissioner, The Hon.
"Justice Gordon Lewis AM, fined $11,500 and suspended from the remainder of Australia's ICC Champions Trophy campaign as well as the Australian team's two tour matches before the first Ashes Test against Somerset and Worcestershire. Warner will be eligible for selection for the first Test.
"Rule 6 states: Without limiting any other rule, players and officials must not at any time engage in behaviour unbecoming to a representative player or official that could (a) bring them or the game of game into disrepute or (b) be harmful to the interests of cricket."
The Aussie opener is alleged to have struck Root, 22, while in a bar in the early hours of Sunday morning following England's 48-run win over Australia at Edgbaston.
Warner was immediately suspended for the Champions Trophy match against New Zealand on Wednesday pending a hearing, the second such inquiry into the New South Wales born-player's behaviour in 2013 after a twitter outburst in relation to allegations of fixing during the Indian Premier League saw him fined $5750.
Despite the attack, which was labelled as unprovoked by the English and Wales cricket board - who exonerated Root of blame following an incident said to involve a wig - Warner has escaped a ban from the Ashes.
Shane Watson, Mitchell Johnson, James Pattinson and Usman Khawaja were all dropped from the third test of a four match series against India in March after failing to make a presentation regarding how the team could improve.