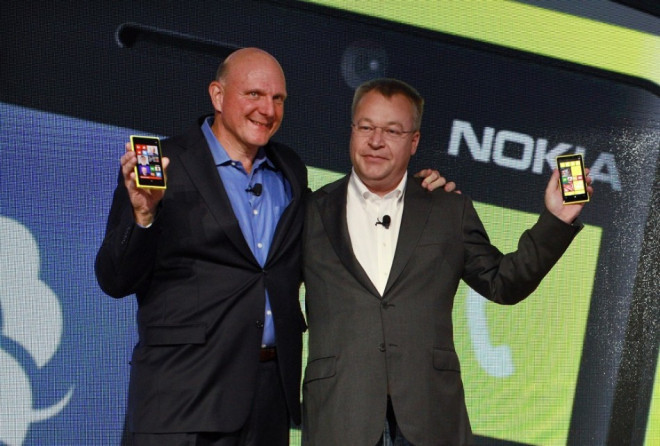 Steve Ballmer's alleged temper tantrum over board opposition to his decision to buy Nokia might well have cost him the Microsoft CEO job, according to Bloomberg Businessweek.
The article, which explores new CEO Satya Nadella's challenges at Microsoft, said Ballmer had a temper tantrum in June 2013 when the board opposed his plan to purchase Nokia's mobile phone division, as well as the HERE maps division.
"Ballmer was so loud that day his shouts could be heard outside the conference room. He'd just been told the board didn't back his plan to acquire two Nokia units," said the wire, citing sources.
IBTimes UK contacted Microsoft for comment but the company declined.
According to a former Microsoft engineer, Ballmer could react "very strongly" to things he did not like. In a statement filed as part of a lawsuit between Microsoft and Google, Mark Lucovsky wrote that Ballmer flew into a fury when he told him he was leaving Microsoft and going to Google.
"At that point, Mr Ballmer picked up a chair and threw it across the room hitting a table in his office. Mr Ballmer then said: 'F***ing Eric Schmidt is a f***ing pussy. I'm going to f***ing bury that guy, I have done it before, and I will do it again. I'm going to f***ing kill Google," Lucovsky wrote.
Although Ballmer won his battle and the board signed off on his proposed $7.2bn (£4.3bn) purchase of Nokia's mobile phone division, directors had apparently long been trying to find ways to "ease him out".
Sources said that Ballmer's retirement announcement on 22 August came as a shock, especially since he had just implemented a controversial company restructuring. Internal candidates to replace him were unlikely to have been groomed at that stage.
Ballmer, famed for his "Developer Dance" at Microsoft developer conferences, had been able to get whatever he wanted from the board of directors for over 20 years, sources said. But in 2012, two outsiders joined the board and started to challenge him to move further into the mobile technology space.
The decision to branch out from being a personal computing company ended up costing Ballmer his strongest supporter – long-time friend Bill Gates, who is a member of the board.
The report claimed that Gates, who stepped down as CEO in 2000, strongly disagreed that Microsoft should become a mobile device manufacturer. Gates's opposition hurt Ballmer and strained their relationship so much that Microsoft's general counsel Brad Smith had to persuade them to go on stage together at the Microsoft shareholder meeting in November 2013.
It is believed that Ballmer, 57, would not have retired so soon if he had not lost Gates's support.
In 2012, Forbes voted Ballmer as the "worst CEO of a large publicly traded American company".
"Not only has he singlehandedly steered Microsoft out of some of the fastest-growing and most lucrative tech markets (mobile music, handsets and tablets) but in the process he has sacrificed the growth and profits of not only his company but 'ecosystem' companies such as Dell, Hewlett Packard and even Nokia," Forbes said.