A pioneering surgical technique has restored some hand and arm movement to patients immobilised by spinal cord injuries in the neck, according to the Washington University School of Medicine in St Louis. The US centre of learning and research said that the technique involved "rerouting passageways".
Researchers said they had assessed outcomes of nerve transfer surgery in nine quadriplegic patients. Every patient in the study reported improved hand and arm function. The study has been published in the October issue of the American Society of Plastic Surgeons' journal Plastic and Reconstructive Surgery.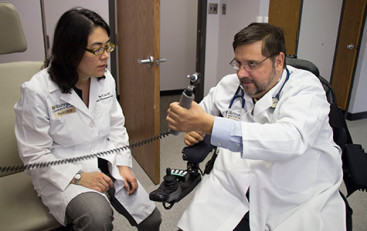 During the treatment, surgeons redirected peripheral nerves in a quadriplegic's arms and hands by connecting healthy nerves to the injured nerves. "Essentially, the new nerve network reintroduces conversation between the brain and the muscles that allows patients, once again, to accomplish tasks that foster independence, such as feeding themselves or writing with a pen," a statement from the university said.
The study's lead author, Dr Ida K Fox, assistant professor of plastic and reconstructive surgery at Washington University School of Medicine, said: "Physically, nerve transfer surgery provides incremental improvements in hand and arm function. However, psychologically, these small steps are huge for a patient's quality of life.
"One of my patients told me he was able to pick up a noodle off his chest when he dropped it. Before the surgery, he couldn't move his fingers. It meant a lot for him to clean off that noodle without anyone helping him."
There are an estimated 250,000 people in the US living with spinal cord injuries. More than half of such injuries involve the neck.