This is the moment a group of rowdy British women were kicked off a Ryanair flight swearing and shouting while the rest of the passengers cheered and booed them down the aisle.
The women, who were visiting Alicante for a hen do, were ushered off flight FR9898 from Liverpool on Thursday night (27 July).
The video was captured and uploaded to YouTube by Josh Daley who punctuates the raucous scenes with a little bit of commentary.
"This is quite funny this," he said.
Another passenger, 17-year-old Katie Brides told MailOnline:"They were a drunken mess, shouting at each other and other passengers who told them to be quiet."
"On the flight, babies and small children were sitting watching that disgusting behaviour. [It was] no way to start a holiday.
"I could not even get up to go to the toilet because the girls would be in the aisle, fighting and shouting in each other's faces.
"They had to be told to sit down on various occasions and did not listen to the staff on board. She added that it was the worst flight she had ever been on with the airline.
"I don't think I'll be flying with Ryanair again. Sad to think this is only just one of the cases that the staff have to deal with day in, day out.'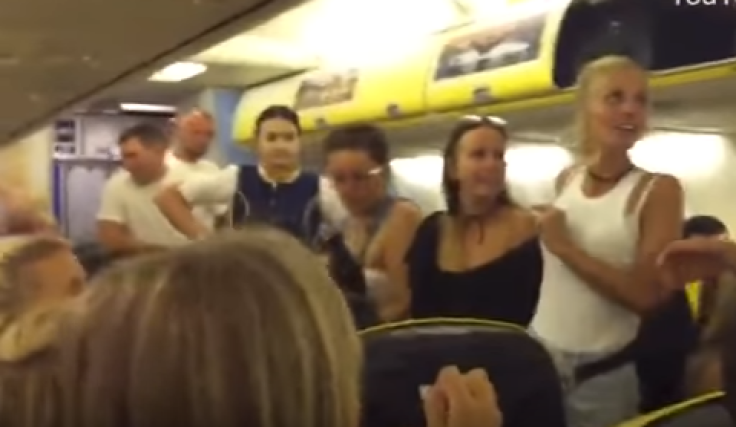 A Ryanair spokesperson said: "The crew of this flight from Liverpool to Alicante (27 July) requested police assistance upon arrival in Alicante after a number of passengers became disruptive inflight. The aircraft landed normally and police removed and detained these individuals.
"The safety and comfort of our customers, crew and aircraft is our number one priority and we will not tolerate unruly or disruptive behaviour at any time. This is now a matter for local police."