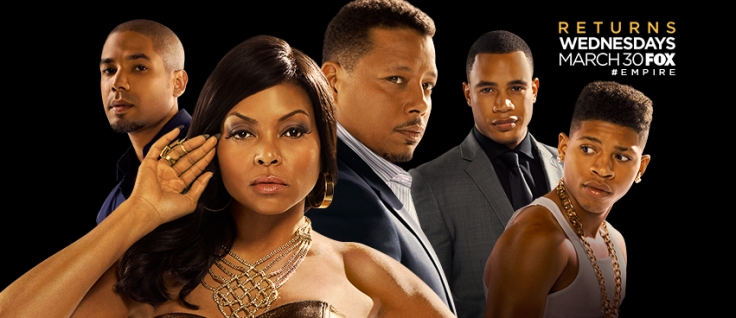 Empire season 2 returns to our screens after a four-month hiatus with its spring premiere episode this Wednesday (30 March) at 9pm EST on Fox. In episode 11 titled Death Will Have His Day, the Lyon family returns with a lot of drama following Hakeem's betrayal and Camilla taking over Lucious's company.
The official synopsis reads as follows:
After losing the company he built, Lucious announces he will stop at nothing to regain his power, but Cookie has her own way of handling things. Meanwhile, Rhonda, Andre and the rest of the Lyon family come to terms with a horrific, life-changing tragedy that changes their lives as they know it. Don't miss the aftermath unfold in the all-new Death Will Have His Day spring premiere episode of Empire.
Click here to watch the episode live via Fox Now. You can also watch the episode online by clicking here (only in the US).
In the upcoming episode, Lucious will be out for revenge against Camilla, who took over his CEO position in his company in the fall finale of Empire season 2. Also, the whole ordeal will bring Cookie closer to her ex-husband as she will fully support Lucious and his cause. A promo shows Lucious telling tells Cookie: "Tonight is out night Cookie. I cannot imagine it with anyone but you."
However, Lucious's relationship with his sons Hakeem and Jamal will be at a crossroads. With Hakeem voting against his father and throwing him out of his company, the duo is seen pointing a gun at each other in the promo video. The scene shows Lucious telling Hakeem: "The next time I see you, I will kill you," before the scene cuts to Hakeem pulling a gun at his father.
In an interview with LA Times, Empire showrunner Ilene Chaiken revealed the second half of Empire season 2 will focus on the Lyon family coming back together. She said: "The second half of the season is really about the family coming back together. I think that's the big headline: The Lyons family comes back together initially to vanquish their enemies, to take their company back while always and forever competing with one another for all the same things. So, there are shifting allegiances in the context of all that but it's very much about the love and the treachery among these wild and crazy people."
Do not miss the explosive spring premiere of Empire season 2 on Fox.