Watch Millionaire's $24m Super Yacht Go Up in Flames on Drone-Shot Video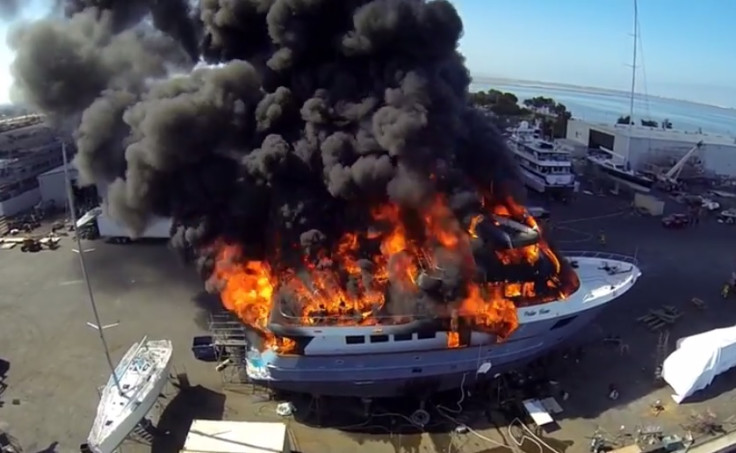 The moment a multi-million-dollar yacht was destroyed in a huge blaze was captured on video by a drone, in graphic footage.
Kurt Roll sent his drone up in the air to film the inferno after seeing smoke in the distance from the Chula Vista Marina, in California, the United States.
What he captured was the millionaire's plaything named Polar Bear - worth $24 million - in the grip of flames, with thick black smoke pouring from the stricken vessel.
Another witness said the fire was so intense he was "feeling the heat" of flames, despite being nearly 100m away.
Around 100 workers fled the marina, including one person who was treated in hostipal for smoke inhalation.
Unconfirmed reports claimed the yacht caught fire in a welding accident.
Roll got it all on his flying camera. He posted the footage on YouTube, writing: "I was filming a friend's boat in South Bay close by, when we saw the smoke coming from the Marine Group's yard.
"This was fascinating to watch through my monitor, but having a boat myself I couldn't help thinking of how horrible it would be to have your dream boat go up in flames. I'm sure the insurance will replace it, but wow what a bummer and a hassle."
The yacht belonged to Larry Jodass, 79, the retired former chairman of a semi-conductor company. "'It was my toy, my wonderful, beautiful piece of equipment. I think it's the most beautiful boat that ever has been built," he told NBC mournfully.
© Copyright IBTimes 2023. All rights reserved.