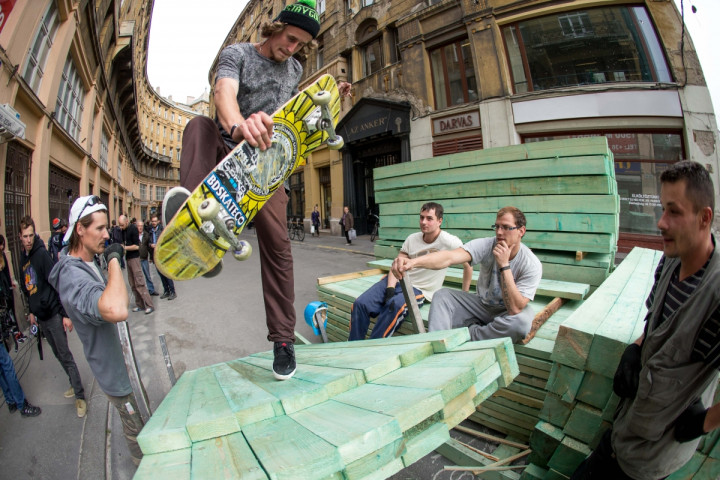 European cities have sought to reinvigorate their economies and drive tourism back to their hey days before the global credit crunch and the sovereign debt crisis.
However, one of the ways that locals plan to do that for Hungary's capital Budapest, is through the extreme sport of skateboarding, in tandem with the latest technology.
As part of the Vodafone Firsts global social responsibility brand programme, Balázs Jassek, 39, staged an urban revolution by highlighting Budapest's landmarks, monuments and parks through a skateboarding odyssey captured on camera.
"Skateboarding is about fun and freedom. For too long in Budapest, skateboarders have struggled as city officials neglected our facilities or even tried to ban us," said Jassek.
"With our film, we hope to kick-start skateboarding in Budapest, as well as remind people around the world what a force for good skating can be."
The International Monetary Fund (IMF) warned this month that while Hungary's economy is recovering, the country is still "susceptible to shocks."
"The economy is recovering gradually, helped by supportive macroeconomic policies, favorable external conditions, and improved market confidence," said the IMF.
"Nevertheless, external and public debts remain high, thus making the economy susceptible to shocks; and the country faces subdued growth prospects."
The Importance of Inspiration
Vodafone Firsts is the telecoms giant's social media-led programme that is intended to inspire people to do something remarkable for the first time using mobile technology.
Budapest used to house the largest and one of the most celebrated skateparks in Europe, Görzenál, but was, sadly, laid to waste after a lack of investment in the right facilities, coupled with skateboarding being outlawed in many public parts of the city, made it harder for the sport to thrive.
"It has been fantastic to support Balázs in achieving his dream of reinvigorating the Budapest skate scene," said Vodafone Group's Brand Director Barbara Haase.
"As well as the creation of an inspiring film, the refurbishment of the skate park means this is a First which will be enjoyed by future generations. This First is an example of how our technology can help people mobilise communities and celebrate their passions."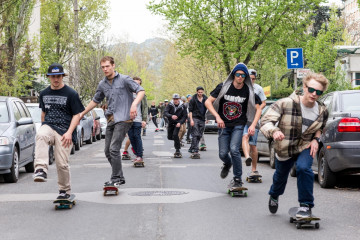 Vodafone began by recruiting a series of inspirational people to help them achieve their Firsts, through the global consumer engagement programme, including Olympic Boxer Mary Kom help women in India learn self-defence techniques.
Jassek used mobile technology to crowd source hundreds of skaters to appear in his movie, which was filmed using a drone camera.
Footage was stored and shared through the Vodafone Cloud, which Jassek used as a production tool.
Following this, hundreds of skateboarders responded to his call-to-action, taking to the streets of Budapest and skating over monuments and landmarks as they put their sport back on the map.
After 700 square metres of Birch Plywood, new ramps, paintwork and repairs, the revamped skate park was unveiled over the weekend, packed with cheering skaters who now have a new, safe and inspiring place to practice.