R'n'B star Frank Ocean closed out his headline set at FYF Fest 2017 by serenading one his biggest fans. The 26-year-old singer dedicated a song to Hollywood actor Brad Pitt, who was on hand to make the performance extra special.
In a clip published on the Christian Kassoff YouTube channel, Pitt can be on the giant screen standing at the side of the stage pretending to communicate with Ocean over the phone as the entertainer launched into a cover version of Close to You and Motown classic Never Can Say Goodbye.
He concluded the song by confirming that the coolest friendship in Hollywood was going from strength to strength. "This is for our good friend," he told the stunned crowd.
Although it is not clear whether the touching scene was pre-recorded as part of a secret project with Spike Jonze, who was seen filming the performance, or actually an impromptu moment captured live, fans are shipping the bromance.
"I think I just teared up a bit watching that," one viewer said while another wrote: "The sonic intimacy and vulnerability of Close To You / Never Can Say Goodbye + the simple up close Visual of Brad talking on the phone paints the picture that we all can innately connect to. The history of Brad with Frank's music to get by his separation with Angelina after 12 years only adds supplement to it. Fucking beautiful and im so jealous I couldn't experience this live ughh."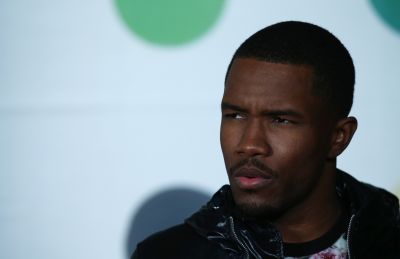 Pitt previously spoke of his admiration for the Thinking About You crooner. "I've been listening to a lot of Frank Ocean. I find this young man so special, " he told GQ back in May. "Talk about getting to the raw truth. He's painfully honest. He's very, very special. I can't find a bad one."
The Mr& Mrs Smith star, who split from Angelina Jolie last September, also revealed that he had started listening to R'n'B because the genre "comes from great pain, but it's a celebration." He told GQ: "To me, it's embracing what's left."