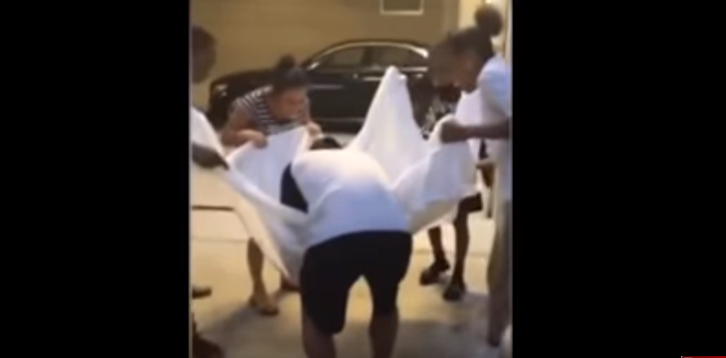 A video of a little dog dangling from a three-storey apartment balcony in Tampa in the US on Sunday (6 August) before falling down safely has gone viral.
In the video, the dog looks extremely scared and is seen dangling from its hind legs with its whole body out. It took about 35 to 40 minutes for the dog to actually jump and fall right into sheets residents were holding.
Fank Elision, who recently moved to the Trio Encore Apartments in Tampa, along Florida's Gulf Coast, said they took the video of the rescue because no one would believe a little dog was hanging from a balcony from three storeys up.
When Elision saw the dog dangling precariously from the balcony, he called his grandmother, Terlisa Perry.
Others called the police and some spread a sheet to catch the dog in case it fell.
"I mean by the time I got here, they had a sheet. One of the other neighbours in this building had thrown the sheet and they had spread the sheet out," Perry said.
Two Tampa police officers also joined Elision and the others.
"I mean it was just everybody's hearts was just racing and beating and pounding. We were just terrified that this dog was going to fall to its death," Perry said.
After the dog fell and it was confirmed that it was okay, some neighbours went and knocked on the owner's door. After no one answered, they took the dog to a vet.
According to WPTV, the police said they planned on going back to the apartment to try and figure out how the dog got onto the balcony.
"I'm just thankful that God placed them in the right place at the right time," Perry said.