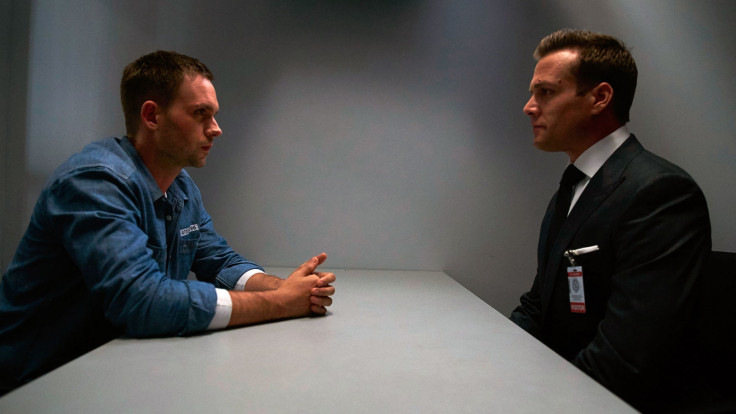 Suits season 6 returns with an all-new episode this Wednesday, 27 July at 9pm EST on USA Network. Episode 3 is titled, Back On The Map, wherein Mike Ross will continue to be threatened by fellow inmate Frank Gallo, and the faux lawyer will try to remain safe without breaking Danbury Federal Prison's "unwritten" rules.

Also, Jessica Pearson and Harvey Specter will try to land a whale client while Louis Litt searches for an office tenant to fill up the empty PSL offices. According to the synopsis for the episode, Rachel Zane will face a fellow student.
Click here to watch Suits season 6 via live stream on the USA Network. You can also watch the episode online at a later time by clicking here (only in US).
The promo released for episode 3 hints at Frank Gallo trying to get back at Mike, through someone close to him — possibly hinting at Rachel. Gallo tells the convict, "If I can get to Harvey through you, that must mean I can get to you through somebody else."
Paul Schulze who plays Frank spoke to The Hollywood Reporter about what kind of threat his character will pose going forward. "They spend a lot of time talking about how dangerous Frank is; Harvey reminds Mike of that and different people in the prison are scared of him. He certainly has power in the prison and I think he is a very dangerous guy overall."
The actor also teased Gallo's agenda, which is to get out of Danbury prison. He said, "His main priority is not to scare people, it's to try to better his situation and ultimately get out of the joint. As angry and sociopathic, or psychopathic, or homicidal as Frank is, he's also trying to further his own cause, which is getting the hell out of Danbury."
According to Schulze, things will heat up after episode 2 of Suits season 6. "The stakes definitely rise after this episode and things become a little more tense. Frank is absolutely willing and able to kill Mike. That's something that has to be dealt with by Mike and Harvey and guards and whoever else." he added.
The question remains as to how far Frank will go to hurt Mike and Harvey? Is Rachel in trouble? Keep watching Suits season 6 every Wednesday on the USA Network to know more.