Watch the terrifying moment a baseball pitcher is hit on the head by a 108mph line drive
Arizona Diamondbacks star Robbie Ray taken to hospital after being hit by Luke Voit's comebacker.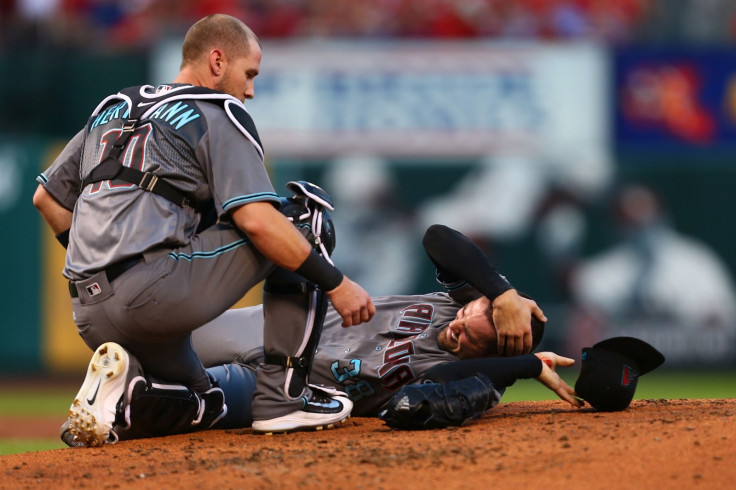 Robbie Ray realised every pitcher's worst fear during a Major League Baseball (MLB) regular season clash between the St. Louis Cardinals and Arizona Diamondbacks at Missouri's Busch Stadium on Friday night (28 July), when he was accidentally struck in the head by a vicious comebacker.
It was in the bottom of the second inning when the former Detroit Tiger, an All-Star selection in 2017, was powerless to avoid being hit by a powerful line drive from first baseman Luke Voit travelling at approximately 108.1 mph.
Ray was knocked down by the blow and remained on the mound for several minutes, holding a towel to his head before being carted off the field to an ovation from the crowd.
As per the Diamondbacks, the bloodied 25-year-old was alert and answering questions before being taken to hospital where a CT scan thankfully came back clear.
The team further reported that Ray, who apparently did not lose consciousness, returned to the stadium to shower and later travelled to the team hotel. He will now enter the MLB's concussion protocol.
"Thank goodness everything came out OK," said Diamondbacks manager Torey Lovullo. "He went and had a CT scan and everything checked out in a very good way.
"He had three sutures put in to close up the wound. He's going to go through the MLB concussion protocol, so we'll have more in the coming days about what we're going to do."
After the game, which the Diamondbacks lost 1-0, Voit said: "Someone can die, you know. It's scary. I can't imagine going through that. You wouldn't wish that on anyone. When I hit it, I knew I hit it good. My heart went in my throat. You know, it could happen to me, too, if a pitch would ever get away. When I saw the replay, I felt so bad."
© Copyright IBTimes 2023. All rights reserved.