Watch two female teachers brawl mid-lesson in front of a class full of children in Georgia
The Stone Mountain Middle School punched, kicked and dragged one another in front of terrified students.
Two female staff members at a school in Georgia have been arrested and charged with disorder after they were filmed brawling mid-lesson in front of a class full of students.
The teacher and a teaching assistant punched and dragged one another as their tempers got the better of them in front of the terrified youngsters at Stone Mountain Middle School in Tucker, near Atlanta.
The 24-second clip was captured by a student on Friday 19 May in a science class.
The cause of the fight is unknown.
The women are reported to have been suspended but neither the school nor DeKalb County School District have named them.
"We send our kids to school to learn, for an education, not to sit there and witness a fight between two adults," parent Valerie Stewart told WSB-TV.
"I mean that's not a good example in front of kids. That was just bad. It was just bad," she added.
A school official said in a statement: "The interaction and conduct in the video is completely unacceptable and contrary to our district's tenets and core principles.
"Those staff members that participated in the conduct have been removed from the learning environment."
The school sent letters to parents on Monday 22 May explaining that staff members had "engaged in a physical altercation that caused a major disturbance in a classroom".
The teachers are technically employed by the school district and will keep their jobs pending the findings of an internal investigation.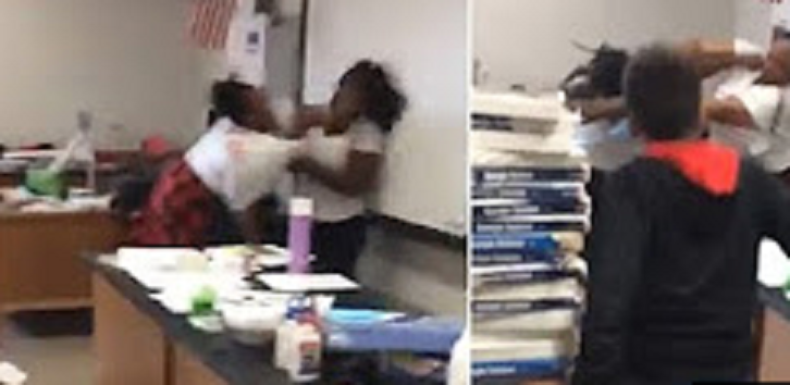 The footage has come to light in spite of accusations made by students that other staff members attempted to delete any evidence of the fight from students' cell phones, according to CBS Atlanta.
DeKalb County School District say they are unaware of any staff going through students' phones after the incident.
One student told CBS: "Nobody apologised. They [the teachers] just came in and were like: 'Who videotaped this?' and stuff like that."
"I think they were trying to push it under the rug so nobody would know about it and the school's reputation wouldn't be messed up."