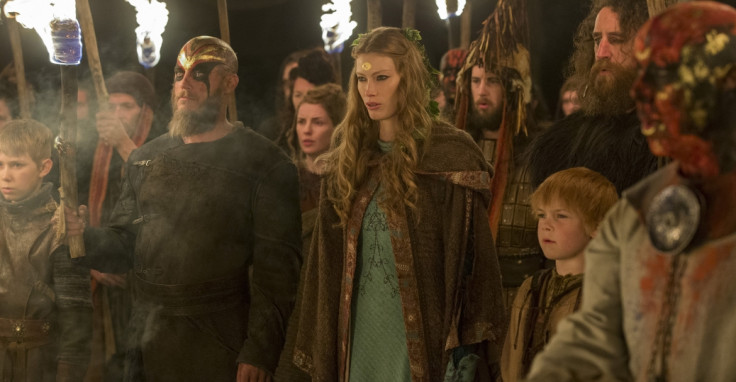 Vikings season 4 is moving to an interesting point where King Ragnar Lothbrok is slowly being sidelined by his family and trusted friends. This week's episode titled Promised will feature a major betrayal that might shake the Norse king.
According to the official synopsis, the Vikings king will divulge his darkest secrets to Yidu, the Asian slave bought by his wife Aslaug. On the other hand, Floki will escape from his cave imprisonment and form a new alliance.
Here is the official synopsis for episode 5: "There's an air of betrayal at Court in Paris and Wessex as those whom Odo trusts plot against him and Ecbert agrees to support Kwenthrith in Mercia, but is Ecbert a true ally? Ragnar confides in Yidu his darkest secret."
Click here to watch the episode via live stream online on History Channel. (only in the US)
In a sneak peek released by History Channel, Floki and King Finehair can be seen discussing Raganar's loose grip over his power. The gifted shipbuilder, however, takes credit for killing the Norse king's "pet Christian" and causing his downfall.
Aslaug's secret dream of ruling Kattegat after Ragnar seems little practical after she exchanges a strange nod with Floki.
In the previous episode, Bjorn fought a fierce opponent in the wilderness but it appears his skills have sharpened after that wild bear fight in episode 3 and he emerges victorious against Kalf and Erlendur and later returns home.
In season 3, Ragnar won Paris but lost many of his loyal friends, including Christian monk Athelstan, who was mercilessly killed by Floki. In this season, his wife Aslaug is secretly wishing for him to die while his brother Rollo has just proven his loyalty to Gisla by handing over his Viking band to her.
The upcoming episode may feature a major battle between the Lothbrok brothers as the teaser reveals that Rollo is prepared to challenge his brother.
Vikings season 4 airs every Thursday night at 10/9c on History Channel.