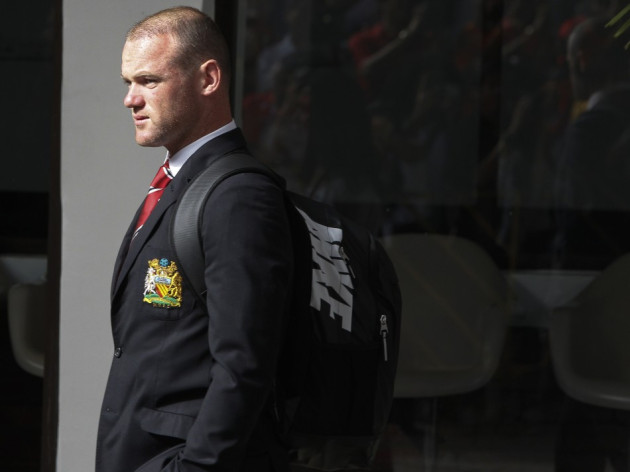 David Moyes has every right to consign Wayne Rooney to a peripheral role at Manchester United behind last season's top scorer Robin van Persie. Similarly, chief-executive Ed Woodward is totally justified in refusing to enter discussions over a new contract for Rooney, whose contract expires in 2015.
After handing in a transfer request in the dying embers of last season - the second such demand during his nine years with the Premier League champions - Rooney seemingly made his bed, but after learning he won't spearhead United under Moyes from next season, and that the club won't appease his astronomical wage demands, the England international is refusing to sleep in it.
"It's going to be a time to see how I work with Wayne," said Moyes during the second leg of the club's pre-season tour in Sydney. "Maybe in a year's time we might have to look at something else.
"Wayne can play up on his own, he can play dropped in. Overall my thought on Wayne is, if for any reason we had an injury to Robin van Persie, we'll need him."
Woodward added: "There are no contract renewals that are being discussed. I am not sitting down with any player on an extension and there is no trigger date in the diary. Would we be afraid to run a contract down? Of course not."
If reports that Rooney is 'surprised and confused' at both Moyes and Woodward's public declarations are true, then the 27-year-old's reaction should be the final nail in the coffin of his United career.
After being out-scored, out-played and out-selected by Van Persie last season, it should come as no surprise to Rooney that he begins this season as second choice behind the Dutch striker. Only if Moyes, during the several discussions with Rooney since his appointment, promised a different scenario should the ex-Evertonian have reason to feel disenchanted.
And having submitted a transfer request, and thus asked to break his multi-million pound contract at United, Rooney has little right to suddenly feel disgruntled that the club are refusing to negotiate an extension to his deal. On the contrary, while United want to retain Rooney, they'll feel their loyalty to the player has been betrayed.
The lack of clarity over Rooney's future is probably born out of United's desire to retain his value, with any bargaining position over his potential sale damaged by a confirmation of his unhappiness. The manner in which Moyes distanced himself from Sir Alex Ferguson's revelation on the final day of last season smacks of covering tracks.
United appear unequivocal in their desire to retain Rooney, and having watched European giants Paris Saint Germain, Juventus and Barcelona all sign strikers in the window, they have almost ridden out the fulcrum of the transfer window and seen viable alternatives extinguished, even if Chelsea and maybe Arsenal loom ominously.
If Rooney is attempting to lever his way out of United, the club are snuffing out every possible exit route. And they have every right.