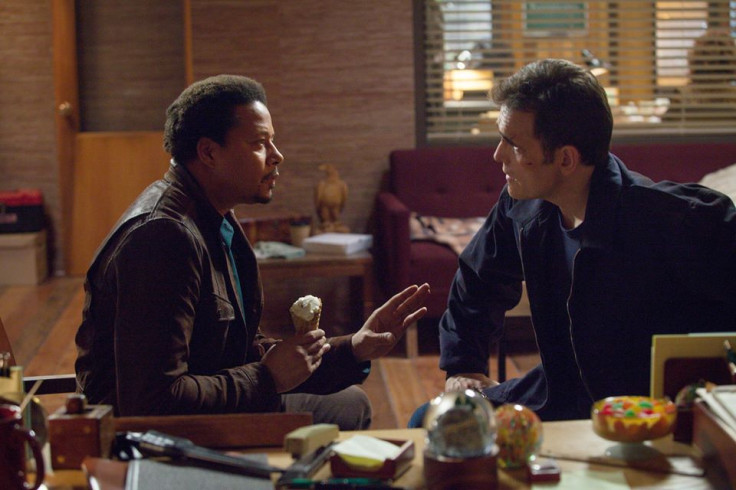 The new episode of Wayward Pines that airs on 28 May will deal with the aftermath of Beverly's shocking public execution.
Episode 3 is titled Our Town, Our Law, where Burke tries to find a new way to get out of Wayward Pines.
Click here to watch the episode online on Fox's website.
The official synopsis reads as follows:
In a new promo for Thursday's episode we see Sheriff Arnold Pope (Terrence Howard) pulling over Theresa Burke (Shannyn Sossamon), along with her son Ben (Charlie Tahan), because her car is leaking oil.
Ethan's wife is en-route to Wayward Pines to search for her husband. When Pope offers to fix the problem to keep her from breaking down, he actually makes things much worse.
Another sneak-peek shows Ethan confronting Kate about Beverly's shocking public assassination, and Kate explains to him about the "reckoning" and fills him in on one of the town's rules, that nobody talks about their past in the town. Since Beverly broke the rules, Kate says she deserved her punishment.
In another sneak-peek we see Ethan warning Pope to steer clear of his family and confronting the sheriff and Nurse Pam about Beverly's public execution and the strange rules of the town.
In response, Pam (Melissa Leo) advises Ethan to make peace with the "extraordinary" place that is Wayward Pines, while Pope offers Burke two choices.
The Sheriff warns, "You can either find your place and follow the rules, or you can keep searching for what's behind door no 3; I guarantee you, you and your family will be much safer if you follow the rules."
What is behind door 3, might be answered in the upcoming episode.
According to a Tvline report, this Thursday's episode will make it clear that pretty much every resident of the titular town first arrived in a manner similar to how Ethan did – meaning, not by simply using their GPS navigation system.
"Not everybody wakes up in the middle of the forest; there are different ways [to get there]," hints showrunner Chad Hodge.
But unlike Ethan, "All, or most of them have learned to play by the rules, or you're going to get killed like Beverly did," he teased.
Regarding the overall mystery, Hodge asked the fans to rule out any coma/dream theories, thereby assuring viewers that "Wayward Pines is a real place."
Wayward Pines episode 3 will air on 28 May at 9pm on FOX.