Amnesty International has dubbed as a "whitewash" a report by Myanmar's military claiming that it was not to blame for the Rohingya crisis.
The country's army said it carried out an internal investigation and denied that it killed any Rohingya people, raped any women and girls or burnt down houses and mosques.
In a post on Facebook, it said that it had interviewed villagers who agreed that security forces did not steal, set fire to mosques or houses, nor shoot "innocent villagers."
In describing the Rohingya minority as "Bengalis", it said that "Bengali terrorists" were behind the burning of houses and that those who fled did so because they feared the violence.
In a long post, it said that Myanmar security forces "did not arrest, beat and kill the villagers".
"They did not totally destroy, rob and take property, gold and silver wares, vehicles and animals of villagers from the villages and displaced villages. They did not set fire to the mosques in Bengali villages.
It said that "They allow the Bengali villagers to perform their faiths in freedom without banning them to attend the mosques and join prayers....They (the military) are joining hands with relevant administrative bodies in systematically supervising the tasks to protect the remaining houses in villages against destruction and stealing of unscrupulous persons."
In the last few months, more than half a million people from the mainly Muslim minority have fled the country after a counter-insurgency operation against Rohinya militants.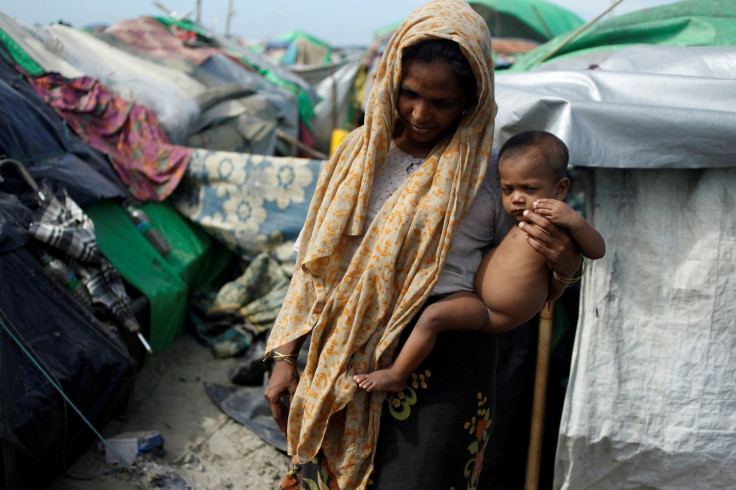 But Amnesty called on for UN observers to enter the country as the military had "made clear it has no intention of ensuring accountability".
"It's now up to the international community to step up to ensure these appalling abuses do not go unpunished," a spokesman said, according to the BBC.
Meanwhile, on Monday night (13 November), the British prime minister, Theresa May, said that the UK would do "everything possible to stop the appalling and inhuman destruction of the Rohingya people".
Condemnation of Myanmar's de facto leader Aung San Su Kyi has been growing over her reluctance to criticise the reported atrocities carried out against the minority.
Bob Geldof plans to return his Freedom of the City of Dublin Monday (13 November) in protest at Myanmar leader Aung San Suu Kyi, who also holds the honour.
Political activist Bob Geldof renounced his freedom of his native city of Dublin because he did not want to be associated with the award while it is also held by the Myanmar leader. She finally visited country's restive Rakhine state for the first time on Thursday (2 November).