Rohingya Muslims are so desperate to leave Myanmar they are willing to risk their lives by crossing a four-kilometre (2.5-mile) stretch of water on flimsy makeshift rafts or even swimming to Bangladesh.
More than 200 have drowned attempting the crossing during the past two months, but recent calm seas have encouraged more and more people – many of them families with tiny children – to pack onto rafts made of bamboo with plastic jerrycans lashed to the poles for buoyancy.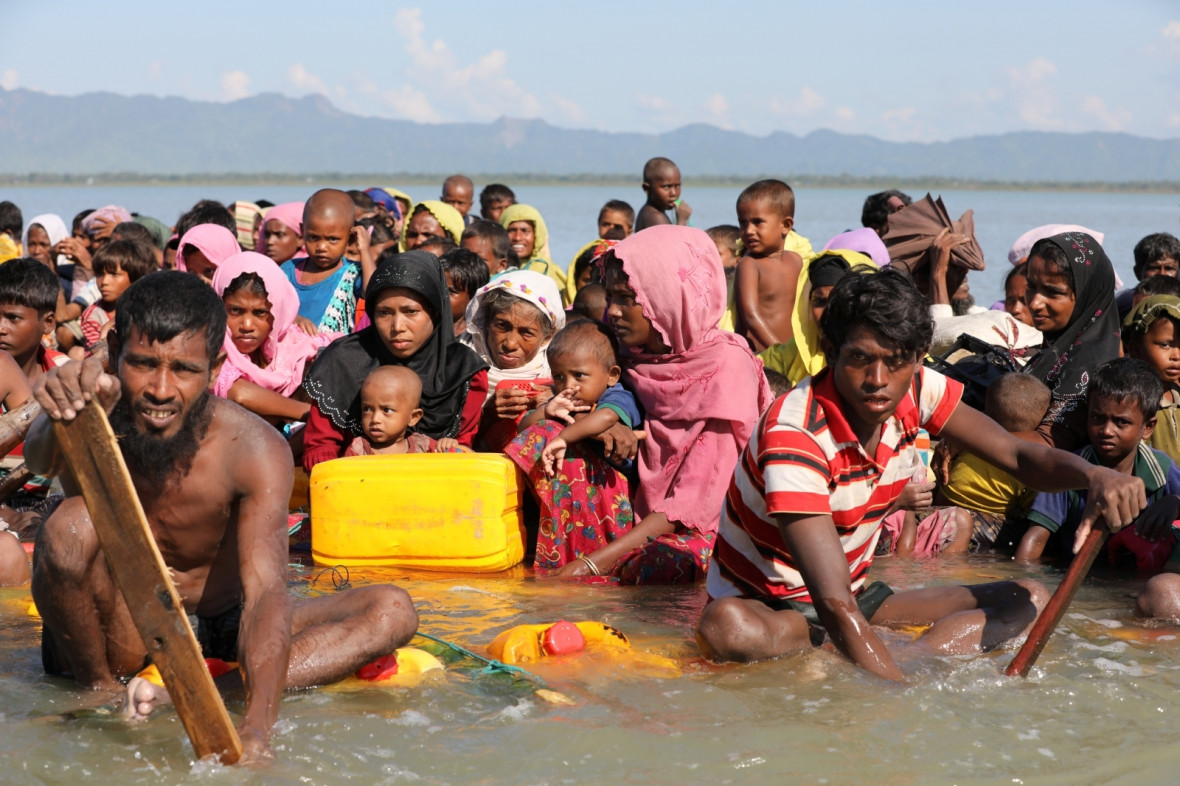 A Reuters photographer saw up to ten rafts landing on the beaches of Teknaf, at the southern tip of Cox's Bazar, on Friday (10 November). Border Guard Bangladesh officials counted 444 refugees coming ashore at Sabrang, near Teknaf, and 150 more arriving further along the coast. Thousands more made the crossing as the fine weather continued over the weekend.
Some have taken even more desperate measures. In the past week, more than three dozen boys and young men have swum across the mouth of the Naf River clinging onto yellow plastic containers.
The Associated Press spoke to two teenage boys who swam across the river holding on to empty plastic cooking oil containers. Thirteen-year-old Nabi Hussain couldn't swim, and had never even seen the sea before fleeing his village in Myanmar with his family. They arrived at the coast with a flood of other Rohingya refugees and had no money for a boat and a smuggler.
Every day, there was less food. So after four days, Nabi told his parents he wanted to swim the delta to reach the thin line of land he could see in the distance. His parents didn't want him to go. One of his older brothers had left for Bangladesh two months ago, and they had no idea what had happened to him. They knew the strong currents could carry Nabi into the ocean.
Eventually, though, they agreed, on the condition that he not go alone. So Nabi joined a group of 23 other young men who strapped cooking oil containers to their chests as floats, and stepped into the water just as the current started to shift toward Bangladesh. The men stayed in groups of three, tied together with ropes. Nabi was in the middle, because he was young and didn't know how to swim.But he clung to the empty container and struggled across the water with it for about 2.5 miles, all the way to Bangladesh. "I was so scared of dying," he said. "I thought it was going to be my last day."
Just after sunset, the group reached Shah Porir Dwip, exhausted, hungry and dehydrated. Nabi is now alone, one of an estimated 40,000 unaccompanied Rohingya Muslim children living in Bangladesh. His parents don't know he is alive.
Although Rohingya Muslims have lived in Myanmar for decades, the country's Buddhist majority still sees them as invaders from Bangladesh. The government denies them basic rights, and the United Nations has called them the most persecuted minority in the world. And then came the military crackdown. "We had a lot of suffering, so we thought drowning in the water was a better option," said Kamal Hussain, 18, who also swam to Bangladesh with an oil container.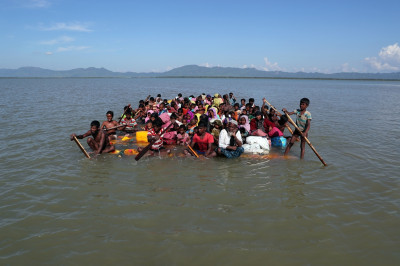 People reaching the shore have told Reuters that there are thousands living in desperate conditions on the strand of beach by the river's mouth at Pa Nyaung Pin Gyi, as they waited for a chance to cross over. Dil Muhammad, 30, from Buthidaung, one of the Rakhine regions that bore the brunt of the military operation, finally made it across with his wife and three children after weeks of living on the sand because he could not afford to pay a boatman.
Having kept northern parts of Rakhine State virtually off limits since it launched a counter-insurgency operation there in late August, Myanmar's military made a rare show of openness on Sunday (12 November) by taking foreign journalists to see one of the beaches from which Rohingya are trying to escape. Around 1,000 Rohingya Muslims are camped on an exposed, sun-baked beach on the Bay of Bengal waiting for a boat to carry them to sanctuary in Bangladesh.
The beach at Ah Lei Than Kyaw, some 5km south of the mouth of the Naf river, is a kind of purgatory for the Rohingya. Mohammad Eidnou, a 19-year-old labourer, sold his house and belongings but he and his family have spent everything surviving for the past two months and have no money to pay the $50 a head that boatmen are demanding to take them to Bangladesh. "I don't want to go back to my village because there is nothing for us," Eidnou told Reuters. "We cannot survive."
Some have been stuck there for over a month, sweltering under the plastic sheeting used to make tents and existing on handouts proved by the Myanmar Red Cross Society. Others came just a few days ago, a sign that the flight of the Rohingya to Bangladesh is far from over. The International Rescue Committee (IRC) reckons that two-thirds of the 300,000 Rohingya still in Myanmar could leave in the next couple of months.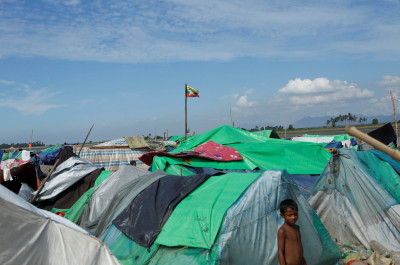 Over 613,000 Rohingya have already taken refuge in Bangladesh since a Myanmar military clearance operation forced them to abandon their villages in northern Rakhine State. Many have recounted horror stories of rape and murder. A top UN official described the military's actions as "ethnic cleansing", though Myanmar denied that, saying its operation was needed for national security after Rohingya militants attacked 30 security posts on 25 August.
The IRC has warned of the extremely dangerous health conditions for the hundreds of thousands of Rohingya living in camps around Cox's Bazar in Bangladesh. A nutrition survey led by its partner Action Contre la Faim found that 40,000 Rohingya children face malnutrition and require life-saving assistance. Agencies reported that two-thirds of Cox's Bazar's water is contaminated with faeces.
"The conditions we are seeing in Cox's Bazaar create a perfect storm for a public health crisis on an unimaginable scale," said Cat Mahony, the IRC's emergency response director in Cox's Bazar. "The situation will only deteriorate with more arrivals and a greater strain on already overstretched resources."