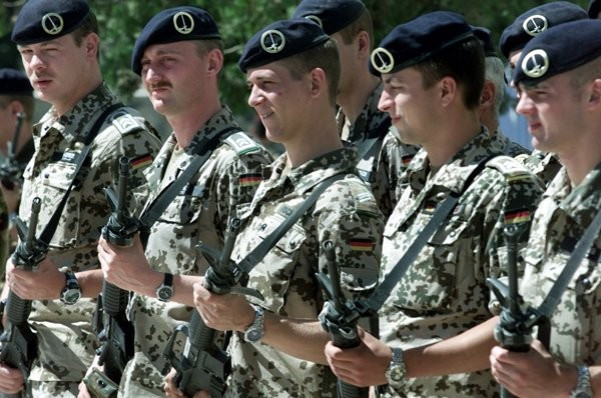 Soldiers in the German army are growing breasts after experiencing an unfortunate side-effect of hard-hitting military drills, it has emerged.
According to the German Medical Science journal, more than 75 percent of the Wachbataillon guard have visited army medics after developing 'man boobs'.
They have been diagnosed with a condition known as one-sided gynecomastia which has stimulated growth in the mammary glands.
It is believed that the bosom-blossoming, which has developed on the left side in every case, is a result of the soldiers constantly slapping their heavy rifles too hard on their chest during drills.
Professor Bjorn Krapohl told the German Herald: "There is a very significant link between the activity in the guard battalion and the development of the breast on the left side.
"They need to change the way they drill. The constant slamming of the rifles against the left hand side of the chest is clearly a significant factor."
An army spokesman said that soldiers affected by the condition are "being medically supervised and treated individually".
The military now plan to research one-sided gynecomastia and change the Wachbataillon drills if necessary.