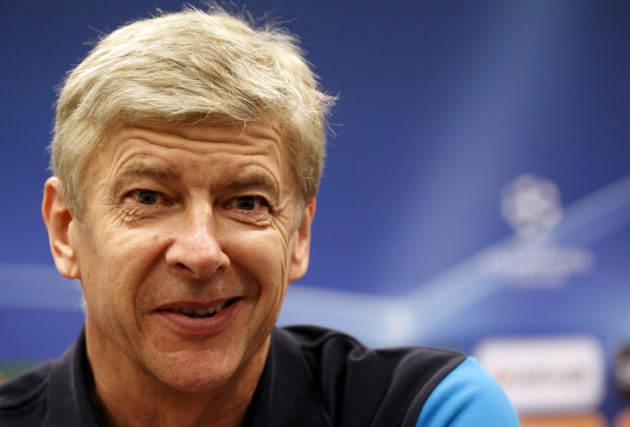 Arsenal manager Arsene Wenger has urged his Premier League rivals to ensure qualification for the knockout stages of the Champions League after he admitted it would be a "catastrophe" if his side were the only English representatives in the last 16.
The Gunners are currently the only English side to have guaranteed their place in the next round, with the futures of Manchester United, Manchester City and Chelsea set to be decided this week.
The Premier League currently has four guarantees berths in the Champions League each season, but that number could be cut to three teams depending on seasonal results.
Arsenal have already confirmed their place in the knockout phase of Europe's premier competition, regardless of what happens against Olympiakos on Tuesday night but Wenger revealed he will be supporting all three English sides in the last-round of group games.
"That is a catastrophic scenario for England and would basically harm our places in Europe for the future," the Arsenal manager said.
"That's what you don't want - that you go from four to three places. Hopefully that will not happen.
"Of course the teams like Man Utd would then focus on the FA Cup and the [league] Championship but let's see. I don't think that will happen."
Arsenal are already guaranteed top place in Group F, meaning Wenger's side will avoid a last-16 match against Real Madrid or Barcelona, two sides the Frenchman feels are best placed to win the competition.
"At the moment I would say in Europe there are two super favourites - Barcelona and real Madrid," he added. "Behind them, everyone else can hope to win it and we will try to win.
"At the moment we are not one of the favourites but one advantage we have is that we have finished top of our group.
"From now it becomes a cup competition. The Champions League becomes different when you go in the last-16, it is more open. You need a bit of luck in the draw and you need to have your players available in the two games."