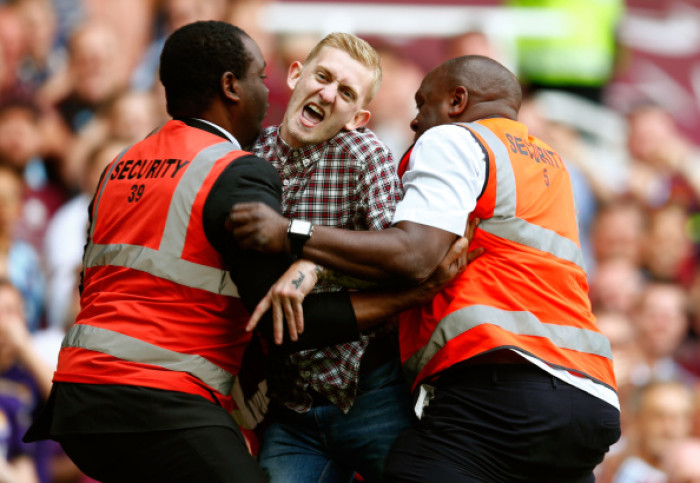 West Ham fans have apparently come to the rescue of one of their own by paying for pitch-invader Jordan Dunn's court fine after the lout ran on to the Upton Park pitch against Tottenham Hotspur.
Dunn gained notoriety when he jumped the barrier during West Ham's home game against Spurs before taking a free kick that forced Hammers goalkeeper Adrian into making a save.
The 22-year-old has since apologised for the "moment of madness" as he pleaded guilty to a charge under Section 4 of the Football Offences Act 1991.
During the hearing at Thames Magistrates Court on Monday, judge Gareth Branston appeared to make light of the drunken incident and suggested Dunn was better at free kicks than Spurs' Christian Eriksen, who retook the kick afterwards.
"To be frank you were probably a little tired by the time you got to the ball. It was a longer run than was strictly necessary," he said.
"You had consumed alcohol and your stride pattern was a bit out of kilter but to borrow a phrase, you did bend it like Beckham. Regrettably it was about 30mph slower than Beckham.
"I understand that the professional footballer who followed you did not do any better."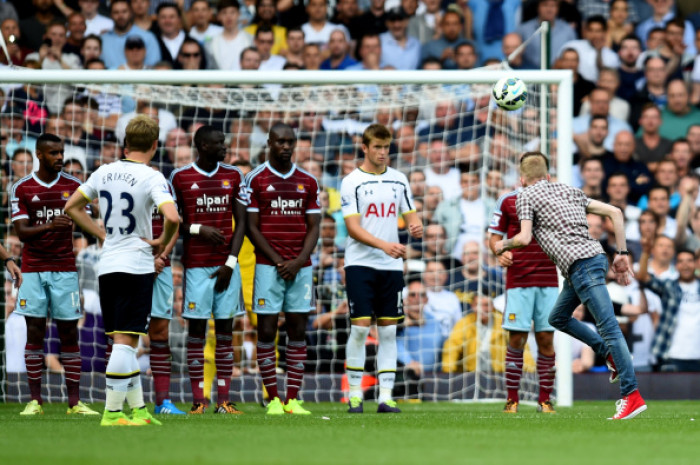 But after being ordered to pay a total of £305, Dunn seemingly looked to fellow Hammers fans to help pay off the fine.
Using the site crowdfunding site Go Fund Me, someone purporting to be Dunn begged: "Please all donate as much as u like, every little helps to pay off my court fine, all very much appreciated Hammers.. IRONS IRONS IRONS."
Comments from fans who have donated towards the cause include: "Worth every penny, Upton Park at it's best!" and "Highlight of the game, as usual, none of our defenders closed you down! Were you wearing clown shoes?"
And the ploy appears to have worked after the £305 target was met after just 37 donations.