To celebrate the decade-long wait for the next main entry in the Final Fantasy video game franchise, Sony has revealed a trio of Final Fantasy 15-themed audio products.
Headlining the three is a special edition A-series Sony Walkman complete with an embossed "XV" on the rear, as well as retro-styled sprites of the game's four lead characters – Noctis, Prompto, Ignis and Gladiolus – and a minor alteration to the UI that matches the colour scheme of the official logo.
The media player also supports Hi-Res audio, and is available from 29 November for a price of ¥33,880 (£243, $302) for the base 16GB model.
The product's launch coincides with the PS4 and Xbox One title's worldwide launch, but those hoping to grab the musical companion outside of Japan could be left disappointed as Sony appears to have no plans to release it in the West — something that won't be music to the ears of series fans in the Western hemisphere.
The range also includes a pair of "H.Ear On" MDR-100A headphones with an XV emblazoned on each ear cup and a "H.Ear Go" SRS-HG1 Bluetooth speaker with silhouttes of its boy band protagonists, a camp fire and their car, the Regalia. The pair cost ¥24,380 (£175, $217) and ¥29,380 (£211, $262), respectively.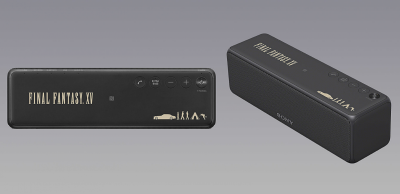 While the range doesn't quite match the ridiculousness of the FF15-branded Audi A8, it does represent another chapter in the storied relationship the franchise has had with Sony and its PlayStation brand since the Final Fantasy 7-era.
Ahead of Final Fantasy 15's release tomorrow, IBTimes UK has delved into its tumultuous history, so here is a link to our story looking back at the development drama surrounding what could be the most important Final Fantasy game in the franchise's exalted history.