The entire western US is rising as a result of extreme droughts that have hit the area in recent years, scientists have announced.
Researchers have found California's mountains have risen by 15mm, while the entire west – on average – is now 5mm higher than 11 years ago.
Scientists at the Scripps Institution of Oceanography at UC San Diego noticed that ground positioning data from GPS stations across the west showed this upward movement.
Published in the journal Science, a Scripps assistant research geophysicist kept noticing that over the 2003 – 2014 period, all of the stations moved upwards in the most recent years – coinciding with timing of droughts.
The western US has experienced severe droughts in recent years. Between 2006 and 2011, California endured a five-year drought, which officially ended in March 2011.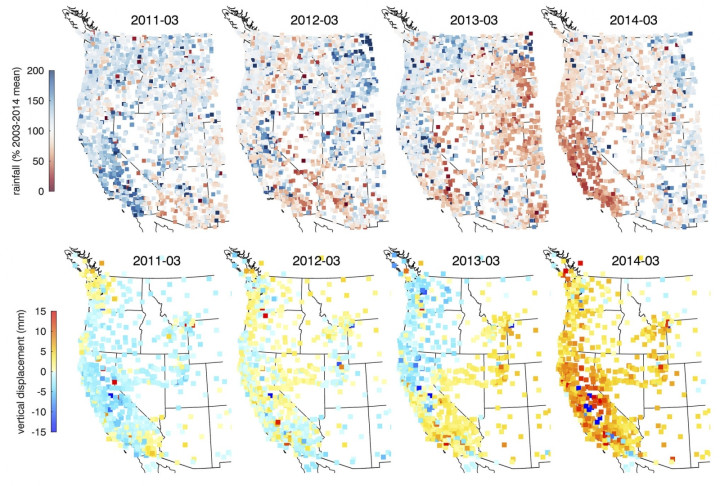 However, last year the drought returned and intensified, shattering records with minimal rainfall across much of the state. In August, authorities announced California was experiencing its worst drought ever.
Scientists now estimate that western US has now lost about 62 trillion gallons of water as a result of these droughts, and that this is causing the area to rise up like an uncoiled spring. The amount of water lost is equivalent to a six-inch layer of water across the whole of the western US, which should have weighed the land down.
Geophysicist Duncan Agnew said the only way to explain the shifting GPS data is the rapid uplift of the tectonic plate that western USA lies on.
Researcher Dan Cayan said: "These results quantify the amount of water mass lost in the past few years. It also represents a powerful new way to track water resources over a very large landscape. We can home in on the Sierra Nevada mountains and critical California snowpack.
"These results demonstrate that this technique can be used to study changes in fresh water stocks in other regions around the world, if they have a network of GPS sensors."