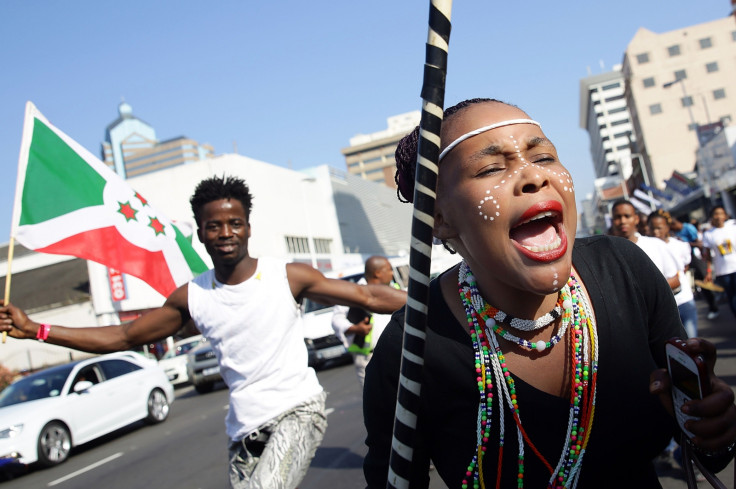 As millions of people in towns and villages across the African continent are expected to gather for the launch of the ''Africans Rising'' movement on 25 May, IBTimes UK looks into the new Pan-African campaign calling for social, economic, environmental and gender justice in a united Africa.
Africans Rising describes itself as "a peoples' movement committed to a decentralised, citizen-owned future that will build support and solidarity for local struggles, empower local leadership and immerse activists in the grassroots work of building social movements from below and beyond borders".
It gathers a collective of social and social justice movements, NGOs, intellectuals and artists, sports personalities and cultural activists across the continent and diaspora.
The movement is based on the founding charter, the ''Kilimanjaro Declaration'', which was unanimously signed by 272 delegates from nearly 45 countries of Africa who gathered in Arusha, Tanzania, for the ''Africans Rising'' conference in August 2016.
The new version of the original ''Arusha Declaration'', which was launched in 1967, also calls for self-reliance, but on a continental scale.
Described as a "general guide that is being used across the continent", the mobilisation document calls on people across Africa to "connect local struggles under this [Africans Rising] umbrella [and] galvanise solidarity with all African struggles".
Committed to peace and non-violent action, the movement hopes to "deepen the meaning of African Liberation Day", on 25 May, by mobilising people to launch the new movement and "build momentum towards the genuine liberation of our beautiful continent".
Since 1963, 25 May is known as Africa Day, during which day Africans celebrate the "hard-­fought achievement of their freedom from European colonial powers". However, the joint social movement says, "today we note that most governments on the continent hardly observe this day since they know that it will ring hollow for many of our people across the continent."
According to the #25May2017 Mobilisation Guide, millions involved in this pan-­African mobilisation are urged to wear red on the day, during which a set of actions are planned between between 12:00 and 14:00 and 18:00 and 20:00.
Besides gathering, reading out the Kilimanjaro Declaration and stating their demands, partakers will also light candles. All activities should ensure that the poorest and most marginalised groups lead, shape and manifest the launch of Africans Rising.
In 2015 the University of Cape Town crunched survey results from across the continent, and found that 71% of respondents supported democracy, 68% approved women as political leaders but only 38% said that their government was managing the economy properly. According to its AfroBarometer data, 50% of respondents said they did not have sufficient food.