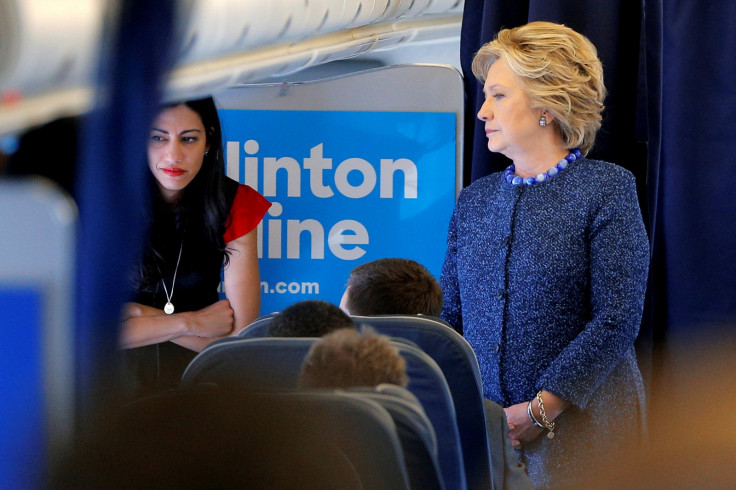 In 2016, the FBI uncovered a series of emails from Anthony Weiner's laptop that were sent by his now-estranged wife and Hillary Clinton aide Huma Abedin. Four of these documents were marked as "confidential" and involved numerous discussions regarding Middle Eastern affairs.
On Friday (29 December), the US State Department released one batch of 2,800 emails in response to a Judicial Watch Freedom of Information Act (FOIA) lawsuit seeking "all emails of official State Department business received or sent by former Deputy Chief of Staff Huma Abedin from January 1, 2009 through February 1, 2013 using a non-'state.gov' email address".
Some of the documents contained redaction in the form of names, details which were considered classified information. Other less sensitive information included Clinton's daily schedule, media conversations, travel details and talking points for conversations with foreign diplomats.
Earlier this year, former FBI Director James Comey testified that Abedin did not have "a sense that what she was doing was in violation of the law".
Judicial Watch President Tom Fitton, however, saw the release of information to a private account, a breach of trust. "That these government docs were on Anthony Weiner's laptop dramatically illustrates the need for the Justice Department to finally do a serious investigation of Hillary Clinton's and Huma Abedin's obvious violations of law," he said in a statement.
A document dated November 2010, detailing a call between Clinton and Saudi Foreign Minister Prince Saud al-Faisal was sent to an address titled "Anthony Campaign". It included then-Secretary of State Clinton's plans to warn al-Faisal about Wikileaks planning to release sensitive documents leaked by former Army Pvt. Bradley Manning, who post transition is known as Chelsea Manning.
A number of other documents containing sensitive data were heavily redacted. These included an email mentioning a talk with United Arab Emirates Foreign Minister Abdullah bin Zayed Al Nahyan and a communication with the subject line, "Egyptian MFA on Hammas-PLO talks," which was entirely redacted.
Last May, in a letter to the Senate Judiciary Committee, the FBI said that based on its investigation, it was reasonable to conclude that most of the Clinton-related emails found on Weiner's laptop occurred as a result of a backup of personal electronic devices, with a small number a result of manual forwarding by Abedin herself.
The emails which were sent between 1 January, 2009 and 1 February, 2013 were from when Abedin was Clinton's deputy chief of staff at the State Department. She was married to Weiner, a former New York congressman at the time.
The 41-year-old announced her separation from Weiner in August 2016 following a scandal regarding him sexting with a 15-year-old girl. He pleaded guilty and was sentenced to 21 months in prison in September.