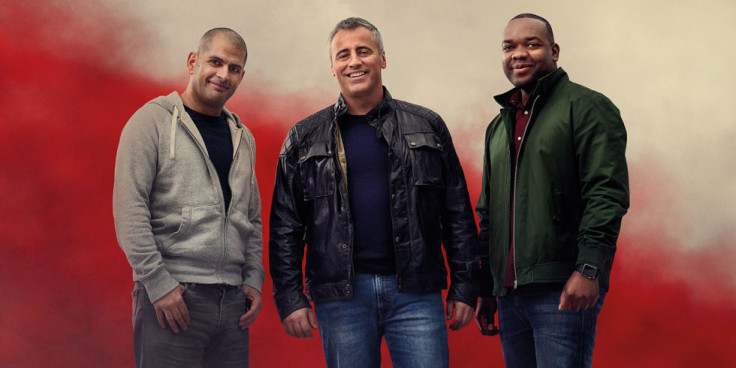 Matt LeBlanc is feeling the pressure of steering solo for the new series of Top Gear, so much so that he succumbed to partaking in grisly eating challenges for the purposes of entertainment.
Ratings began to drop last series as co-hosts Chris Evans and LeBlanc failed to impress viewers and fill the big boots of Jeremy Clarkson, Richard Hammond and James May. But – in an attempt to boost figures – producers now appear to be taking notes from I'm A Celeb, largely thanks to a segment which sees the former Friends' star chowing down on the private parts of a horse.
Former Friends star LeBlanc and his sidekicks Rory Reid and Chris Harris look pretty perplexed to learn they must devour "delicacies" such as horse penis, sheep ears and a pig's face on their overseas car adventures to Kazakhstan.
Of the bizarre upcoming episode, Harris told the Daily Star: "The weirdest thing I saw? I saw Matt try and eat part of a horse that was used in some sort of reproductive process and give up quite early on."
Admitting to eating another strange body part of an animal, Reid added: "The strangest thing I ate was a pig's face. And brain. And ears."
The new Top Gear trio will undoubtedly get an earful from viewers over the stint when the series airs on Sunday 5 March on BBC2. It will also feature guest stars including Strictly winner Ore Oduba and jockey Frankie Dettori in a bid to kick-start viewing figures.
Rumours that the BBC are trying to emulate The Grand Tour have been circulating since the trailer release, with a source telling The Sun: "The new trailer clearly shows the BBC attempting to establish the hosts as a trio. They had such great success with the former team, so it's no surprise they're hoping the formula will work once more."
LeBlanc has also warned that the chemistry between himself, Reid and Harris may take some time to heat up, insinuating it cannot rival the bond that Clarkson, Hammond and May share.
He said: "For the three guys that were on the show before us, it took them a while to build up a rapport.
"This is the first season for the three of us, and it does take a little while. Everyone is open to getting along but it takes a little while to speed up the shorthand.
"We are now getting to a point where we are starting to click," The Mirror reports.
Top Gear begins on 5 March at 8pm on BBC2.