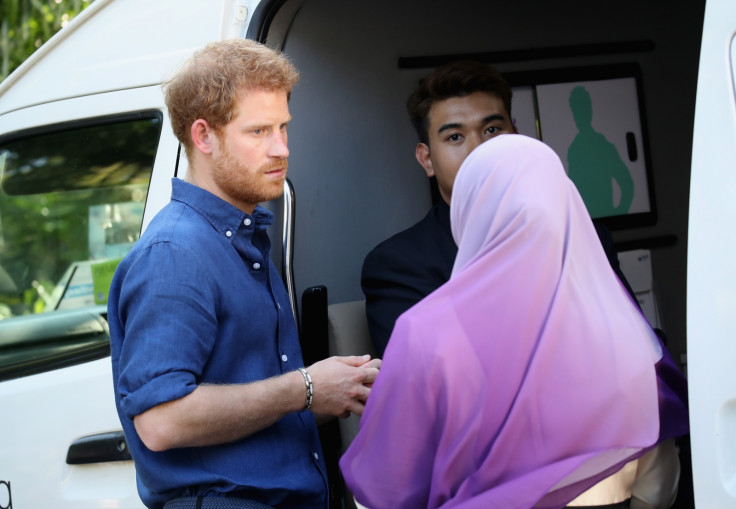 Prince Harry's five-day trip to Singapore and Australia kicked off today (4 June) and the first stop was Singapore's Eden Hall. The 32-year-old royal, who is visiting the Commonwealth Nations to hold charity events, will be heading to Australia later to launch the 2018 Invictus Games.
His two-day trip in Singapore began with rapid HIV test viewing done by a non-governmental organisation, Action For Aids.
According to local news outlets, Harry was accompanied by Dr Amy Khor, Senior Minister of State for Health and chair of the National HIV/Aids Policy Committee and Roy Chan, president of Action For Aids at the HIV testing held at the residence of Britain's High Commissioner Scott Wightman.
While in Singapore, Harry is also expected to take part in an iftar ceremony with the local Muslim community, who will break their Ramadan fast at sunset.
Later on Monday (5 June) the Prince will host the Sentebale Polo Cup to raise funds for the charity of the same name that works with children living with and affected by HIV in Lesotho and Botswana.
The polo match, which will see Harry showing off his skills as well, is scheduled to be held at the Singapore polo club. Over the years, this annual fundraiser match has become popular for featuring professional players from around the world.
"Since Sentebale was founded in 2006, the charity has reached thousands of children and young people in Lesotho, and latterly in Botswana, who have been struggling to come to terms with living with HIV by addressing their mental health and wellbeing," said Cathy Ferrier, Sentebale's chief executive officer.
"It is our ambition to see a reduction in the number of new HIV infections and AIDS-related deaths amongst adolescents in southern Africa, by putting youth first and equipping them with skills and relevant wraparound support that they need to lead healthy, productive lives," she added.
Royal watchers will next see the ginger-haired Prince fly to Sydney, Australia, on Wednesday (7 June) to officially launch the 2018 Invictus Games. Harry, who has been a patron of the international Paralympic-style sporting event since 2014, will be attending a slew of events to mark the official launch during his stay down under.
Following the launch, the Prince will be meeting members of this year's Invictus Games Australian squad for the third Games that will take place in Toronto in September.
The Invictus Games has been one of Harry's prime public engagements and the Sydney round of the games will see more than 500 competitors from 17 nations competing in 10 different sports.