Prince William and Prince Harry will be speaking for the first time about losing their mother, Princess Diana, in a tell-all BBC documentary, which is set to air this summer.
And, talking about their emotional state in the week following her fatal car crash, the Duke of Cambridge makes a heartbreaking confession about feeling that they failed to protect her as sons. He was just 15 while his brother, Harry, was 12-years-old at the time.
William, who talks about the tragedy in a 90-minute documentary, says, "Part of the reason why Harry and I want to do this is because we feel we owe it to her."
The father-of-two goes on to admit feeling like they "let her down" and couldn't protect her when they were younger.
"We feel we at least owe her 20 years on to stand up for her name and remind everybody of the character and person that she was. Do our duties as sons in protecting her," William explains.
The tell-all BBC interview also has Prince Harry's account about the overwhelming response following Diana's death, according to The Telegraph. Looking back at the moment – when there was an outpour of emotions right after the death – the 32-year-old royal feels proud of his mother's profound influence on so many people.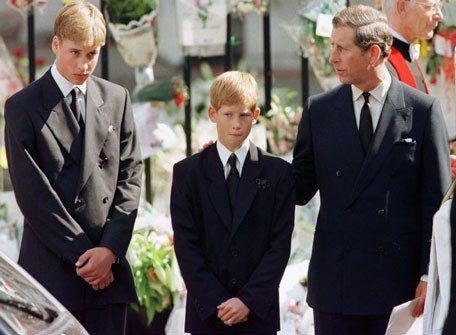 "When you're that young and something like that happens to you I think it's lodged in here, there, wherever – in your heart, in your head and it stays there for a very very long time," Harry admits.
Harry says that it's never going to be easy for the brothers to talk about their unexpected loss. "But 20 years on seems like a good time to remind people of the difference that she made not just to the Royal Family but also to the world," the ginger-haired prince adds.
According to reports the new programme, which was announced just days after a Channel 5 documentary aired past accounts by journalist Tina Brown (Diana's biographer), focuses on the aftermath of Diana's tragic death.
"[It tells] inside story of the tumultuous and unprecedented week that followed the death of Diana, Princess of Wales, and explore how she came to have such an extraordinary effect on the nation and people around the world," a spokesperson added.