A dazed Charlotte Richards found herself in the middle of the beach after Lucifer freed his mum – the mother of angels – from her body into a new world during the finale of season 2.
Unfortunately, the devil didn't anticipate what came next – being knocked unconscious and marooned in the desert with his angelic wings back in place.
The cliffhanger finale of the Fox series – titled The Good, The Bad, And The Crispy – also offered a glimpse of Lucifer trying to make amends with Chloe and come clean about the truth.
But the way events took a dramatic turn – cue the mysterious attacker – God's rebellious son might have more questions in the new season. Here's what we know of season 3's plot so far:
Lucifer season 3 promo released by Fox
Fresh on the heels of the cliffhanger finale aired on 29 May, Fox has already released the first look of its third season. And in the words of the devil himself, the game is on.
However, the supernatural show has been moved to a new time for the upcoming season – Lucifer is now scheduled to air on Monday nights at 8pmEST. Check out the season 3 trailer below:
Lucifer season 3 return date speculations
Originally, the Tom Ellis-starring series was renewed for season 2 and only 18 episodes were planned. But, following the increase in ratings, Lucifer received a "back-nine" order making the total count of episodes to 22.
These four extra episodes of Lucifer will be airing this fall as a part of season 3. While the exact return date has not been announced, last season's premiere time hints the show might air on either 18 or 25 September.
Four standalone episodes in season 3
Season 3 of Lucifer will begin with the extra four episodes that "stand on their own, but also pick up plots we've introduced and bring in new stuff we'll play with in season 3," according to executive producer Joe Henderson.
The titles of the third season's first four episodes have been released - Mr & Mrs Mazikeen Smith; City Of Angels; Off The Record; and Vegas With Some Radish.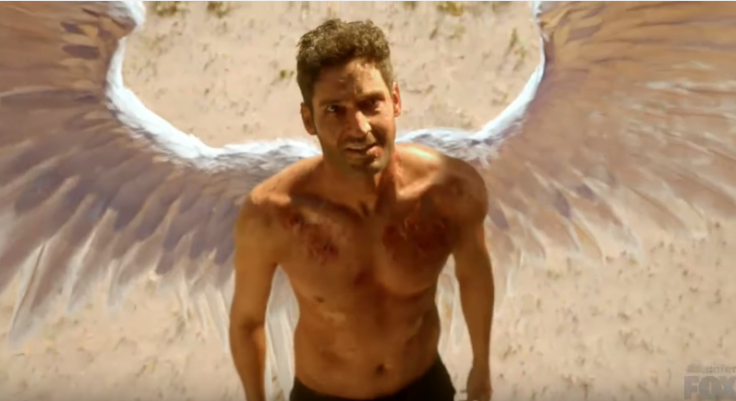 Season 3 is about Lucifer's identity
Despite his angelic wings being chopped off earlier, Lucifer finds himself in the middle of a desert with his glorious wings in the season 2 finale. This leaves the protagonist with an identity crisis. Who exactly is he in reality?
"Is he angel? Is he devil? And how do his wings growing back affect that? And why have they grown back? Who has done this to him? And what kind of plot is happening?" are the questions to be addressed in the upcoming season.
Lucifer tells Chloe his truth?
Season 2 ended with that doomed phone call when Lucifer promises to reveal his true identity to his one true love. According to the producer, the new season picks up after that dramatic call. But a lot seems to have changed between then and the time when (and if) he will finally make it back to Los Angeles.
Tricia Helfer is back as Charlotte but what about God?
Henderson had earlier confirmed Helfer's return and teased Charlotte's character for season 3. While mum will be busy "building her own things" in her new world, it looks like fans might see more of the Morningstar family's head — God — in season 3.
"If we have the right story, we will bring God down," promised Henderson.