WhatsApp Plus has been forced to shut down by WhatsApp, after the chatting app issued users of the third-party alternative with 24-hour bans.
The unofficial app offered extra ways to customise the appearance of conversations, but its use was prohibited by Facebook-owned WhatsApp, with those using the app finding themselves locked out of conversations for 24 hours.
Showing a 24-hour countdown, the warning message said: "You're temporarily banned from WhatsApp because you may have violated our terms of service."
Created by a Spanish developer but not available through Google Play, the app has apparently been downloaded more than 35 million times from alternative Android app store Up to Down since its 2012 release - but security consultant Graham Cluley told the BBC this figure sounds "surprisingly high," adding there's no way to independently verify it.
Cease and desist
Writing on the rogue app's Google+ page, moderator Dr Mounib Al Rifai said: "We have received a cease and desist letter from WhatsApp and we are obliged to remove all download links and unfortunately delete this community.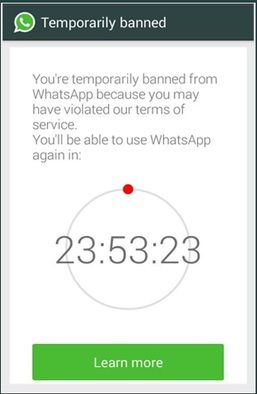 "Am really sorry for this but it's out of our hands and WhatsApp has pushed us into a corner that we can't escape this time. It was a fun rise but it has come to an end."
As well as giving more colour to conversations, WhatsApp Plus also let users increase the size limit on attached video and sound files, and let them prevent friends from seeing when they last logged in.
But WhatsApp wasn't impressed, saying on its website: "The developers of WhatsApp Plus have no relationship to WhatsApp, and we do not support WhatsApp Plus. Please be aware that WhatsApp Plus contains source code which WhatsApp cannot guarantee as safe and that your private information is potentially being passed to third-parties without your knowledge or authorisation."
Users are then advised to download the genuine app, but even those who do may find themselves locked out of the service for 24 hours as punishment for using the third-party alternative.
Following the publication of users' private photos, Snapchat reminded customers last year that third party apps - such as, in this case, Snapsave - should not be trusted.