In a recently-leaked memo to the UK's Defence Secretary Michael Fallon, former UK Joint Forces Command chief Sir Richard Barrons issued a dire warning on the state of the UK military.
According to him, Britain could not sustain a full-scale conventional attack from Russia, particularly from the air. He also raised serious concerns that Britain's Armed Forces are reliant on small numbers of expensive equipment, such as new aircraft carriers, which "we cannot afford to use fully, damage or lose".
This warning comes in spite of a rising defence budget, with the Government – late last year – committing to increase defence spending by nearly £5bn ($6.5bn, €5.8bn) by 2020/21, and to meet the official NATO target to spend 2% of GDP (economic output) for the rest of this decade.
European NATO countries have relied on the US for too long
But it is not just the UK that is to raise defence spending this year and beyond. Fears over Russian aggression (eg. in the Ukraine), homegrown terrorist attacks, the ongoing civil war in Syria and the immigration crisis across Europe are all highlighting the need for Europe as a whole to spend more on defence and security.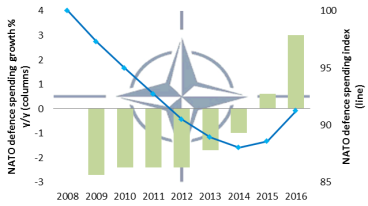 Of the 28 NATO countries, only 5 spent NATO's objective of 2% of GDP, including the US and UK. But what is clear from NATO's own data is that Europe has increasingly relied on the US as a defence shield, while progressively cutting their own defence spending, by a total of 12% from 2008 to 2014 (Chart 1).
Why these European defence cuts are finally to be reversed
The key catalyst is political. We have the US Presidential election to come in November this year, with Republican candidate Donald Trump raising tough questions about what the United States should expect from its allies, many of which are not contributing their fair share financially or militarily to NATO's common defence. This is not even to mention Trump's stated admiration for Vladimir Putin, which is a clear concern to European NATO members.

Let's not forget that Russia has been spending more of its economic output on its military might, just as most of NATO has done the opposite (Chart 2).
Just as was seen during the Brexit debate, immigration has become a hot topic across Europe in advance of parliamentary elections in France (due in April 2017) and in Germany (Autumn 2017).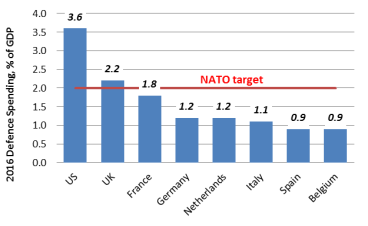 More importantly, Germany's Chancellor Angela Merkel and her CDU/CSU party have been losing ground in a number of local elections in the former East Germany and now in Berlin, forcing her into an about-turn on her liberal immigration policy regarding refugees.
As a result, there is huge pressure to see European governments reacting to the electorate's concerns over security and immigration with extra spending. Note that France spends only 1.8% of its economic output on defence and Germany an even weaker 1.2%. There is thus scope to increase spending in the next year and beyond.
Who will benefit from higher defence and security spending?
Now, we should not forget that defence and national security tend to be highly nationalistic topics, with each European country tending to favour their own national defence companies wherever possible.
The largest defence industries in Europe reside in France and in the UK. In France, both Thales (French code HO) and Safran (French code SAF) are defence-oriented companies that should benefit from higher French and German military and security-related spending.
In the UK, the key company to invest in is BAE Systems (UK code: BA/). BAE is a huge defence supplier to the UK and US in particular, so are well-placed to see a pick-up in orders and sales from this change in trend in NATO defence spending.
BAE Systems has the added attraction of offering a good income, at around 5% in dividend yield annually. So you as an investor are paid to wait in this share.
Other beneficiaries from increased spending on security and defence include G4S (UK code GFS) who provide much of the private sector's security manpower, including security personnel and infrastructure for the 2012 London Olympics.
Increased intelligence and electronic surveillance spending (think MI5, MI6 and GCHQ) should be a boon for Qinetiq (code QQ.), while increased spending on military aircraft should help aerospace companies Rolls-Royce (code RR.), Meggitt (MGGT), Cobham (COB) and Chemring (CHG).
All things considered, BAE would be my top pick of UK companies to buy into this defence spending boost.