The White House has called for an investigation into unverified claims that former US President Barack Obama administration wire-tapped current President Donald Trump during the 2016 election.
It follows a series of tweets in which Trump accused his predecessor of a "sick" spying operation which he likened to the infamous Watergate scandal that brought down Richard Nixon's presidency in 1974.
Obama has denied the allegations as "simply false" but the Trump team has doubled-down on the claim after Press Secretary Sean Spicer said on Sunday (5 March) that US Congress has been asked to investigate.
"Reports concerning potentially politically motivated investigations immediately ahead of the 2016 election are very troubling," Spicer said.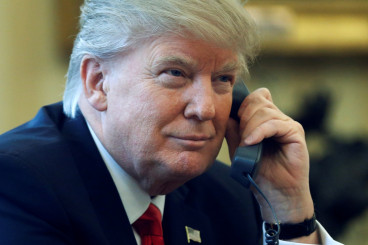 "President Trump is requesting that as part of their investigation into Russian activity, the congressional intelligence committees exercise their oversight authority to determine whether executive branch investigative powers were abused in 2016.
"Neither the White House nor the President will comment further until such oversight is conducted."
Trump's tweets containing the allegations reportedly sent the White House West Wing into a "mad scramble" to try and discover if they were true, according to ABC News' Chief White House Correspondent Jonathan Karl.
Speaking on air on Sunday, he said: "These allegations made over Twitter caught the West Wing by surprise. They had no idea this was coming [and] had no idea what the president was talking about.
"After the tweets went out, you had something of a mad scramble in the West Wing to try and figure out, 'What was he talking about? Is there evidence?'
"[There was] a search to find out if the allegations – the explosive allegations – the president just made were, in fact, true and as of now, I see no indication they found any evidence to that Trump Tower's phone were tapped, let alone that President Obama would have ordered such a thing."
A number of Democrats have also come forward to say that such allegations by Trump are baseless and that it was simply a ploy to shift attention away from the ongoing investigation about Trump's alleged links to Russia prior to his election.
Obama's former Press Secretary Josh Earnest has also come out to refute Trump's claims, stating it was impossible for what is said to have happened to really have taken place.
"This may come as some surprise to the current occupant of the Oval Office, but the President of the United States does not have the authority to unilaterally order the wire-tapping of an American citizen," Earnest said.
"If the FBI decided to use their wire-tapping authority in the context of a counter-intelligence or criminal investigation, it would require FBI investigators [and] officials of the Department of Justice going to a federal judge and making a case and demonstrating probable cause to use that authority to conduct the investigation. That is a fact."