US President Obama has cancelled a planned meeting with Philippines leader Rodrigo Duterte hours after Duterte called Obama a "son of a b****" on Monday (5 September).
Obama and Duterte had been scheduled to meet this week in Laos, where they are both attending a meeting of the Association of Southeast Asian Nations (ASEAN). Obama was expected to raise concerns about the recent extrajudicial police executions of drug dealers in the Philippines.
"Who does he think he is?" Duterte scoffed in a speech in Tagalog in the Philippines, before he left for Laos.
"I am no American puppet. I am the president of a sovereign country and I am not answerable to anyone except the Filipino people," "Son of a b****, I will swear at you," Duterte warned, according to a CNN translation.
Obama responded in his own speech later: "Clearly, he's a colourful guy. I always want to make sure if I'm having a meeting that it's productive and we're getting something done."
He added: "We recognize the significant burden that the drug trade plays not just in the Philippines but around the world, and fighting narco-trafficking is tough. But we will always assert the need to have due process and to engage in that fight against drugs in a way that's consistent with basic international norms."
National Security Council spokesman Ned Price told Associated Press that the meeting between the two leaders has been cancelled. Obama instead will meet Tuesday (6 September) with President Park Geun-hye of South Korea, CNN reported.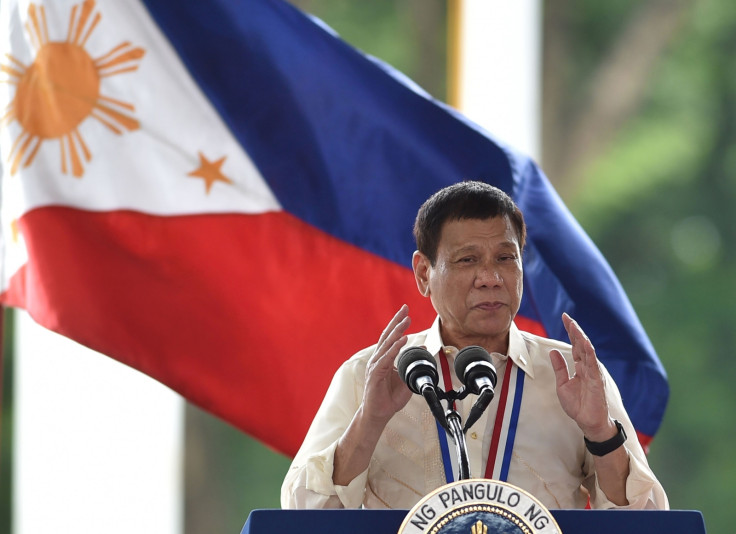 After Duterte insulted Obama, he went on to blame the US for causing the unrest on the southern Philippines Island of Mindanaho.
"We inherited this problem from the United States," Duterte said. "Why? Because they invaded this country and made us their subjugated people. Everybody has a terrible record of extra-judicial killing. Why make an issue about fighting crime?"
He added: "Look at the human rights of America along that line. The way they treat the migrants there."
The Philippines' top police official, Chief Ronald dela Rosa, told a Senate hearing that killings by the police and vigilantes in the country's war on drugs had soared to nearly 2,000 in the seven weeks since Duterte was sworn into office.
"Double your efforts. Triple them, if need be. We will not stop until the last drug lord, the last financier, and the last pusher have surrendered or put behind bars — or below the ground, if they so wish," Duterte said during his State of the Nation speech in July.
Duterte recently hit out at the United Nations for criticising the police killings. He also turned down a meeting with UN Secretary General Ban Ki-moon at the summit in Laos.
Duterte has reputation as a controversial speaker. In April 2016, he joked about the rape of an Australian missionary during the presidential campaign. And he cursed Pope Francis and his entourage for causing traffic jams in Manila during the pope's visit to the Philippines in 2015.