A giant, inflatable chicken with golden orange hair dubbed "Trump Chicken" was caught staring down the White House on Wednesday (9 August).
The Trump Chicken, which was parked on the Ellipse facing 1600 Pennsylvania Avenue has been used before by organizers of the Tax Day March to pressure President Donald Trump to release his tax returns, CBS News reported.
The inflatable barn animal was featured in several Tax Day March events in cities across the US, including DC, Chicago and San Francisco.
According to The Hill, the inflatable chicken is modeled after a statue unveiled as the mascot for a Chinese mall in December. Online retail website Ebay reportedly lists several available Trump chickens, with a 10-foot chicken hailing from China going for nearly $500.
The DCist reported that the Tax Day March did not taken responsibility for the chicken's plucky appearance in front of the White House. A man identified as Taran Singh Brar told reporters he bought the inflatable bird for $1300 as a visual protest.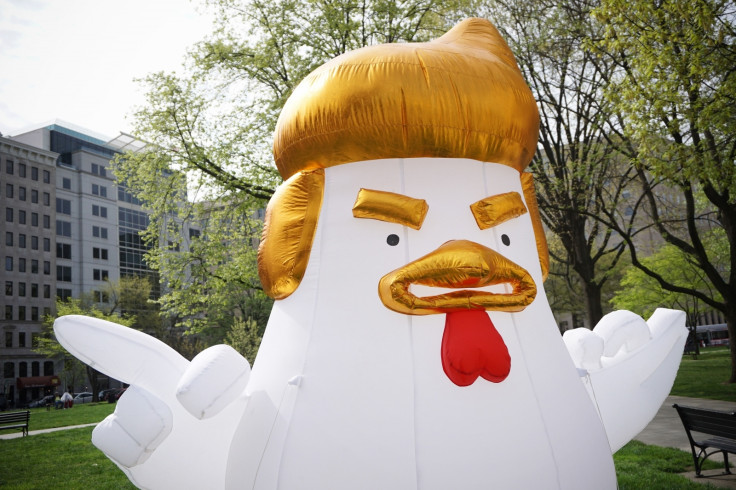 "Trump is too chicken to release his tax returns, to stand up to Putin," Singh Brar told The Huffington Post's Philip Lewis.
Twitter was amused by the orange-coiffed chicken's new position, despite the fact that the president is not in the capital to see it in front of his home. Trump is on a 17-day working vacation at his golf club in Bedminster, New Jersey.