White House purge continues as 'forces' eject Sebastian Gorka from Trump advisor role
The administration has seen a number of high-profile exits in recent months
Controversial Donald Trump acolyte Sebastian Gorka reportedly resigned from his post as advisor to the president after "forces" within the White House pushed to an early exit. Gorka was a deputy assistant to the president and advised him on national security issues.
He stepped down on Friday becoming the ninth top aide to either step aside or be fired from the troubled administration. There were conflicting accounts of his departure after the conservative website The Federalist published what it claimed was Gorka's resignation letter.
"Given recent events, it is clear to me that forces that do not support the MAGA [Make America Great Again] promise are – for now – ascendant within the White House," the letter said. "As a result, the best and most effective way I can support you, Mr President, is from outside the People's House." A White House statement simply said Gorka no longer worked there.
His departure is thought to have been hastened by former military general John Kelly, who replaced Reince Priebus as chief of staff and plans an iron grip on White House staffers after a series of high-profile resignations and media leaks.
Gorka, who was born in London, stepped down days after Steve Bannon announced he was leaving the president's team. Bannon was Trump's chief strategist but left after clashing with powerful aides including the president's family.
Gorka and Bannon are friends and both former editors of the alt-right website Breitbart News, to which Bannon has returned following his stint in Washington.
Brief as his term was, Gorka managed to stoke controversy during his time in the White House by wearing the medal of Vitezi Rend – an anti-Semitic Hungarian organisation that collaborated with the Nazis – and for allegedly expressing Islamophobic views. He stood squarely behind Trump on his pledge to ban travellers from seven predominantly Muslim countries to the US.
As well as Gorka and Bannon, seven other White House aides have either resigned or been sacked including Priebus, national security advisor Michael Flynn and successive communications directors Sean Spicer and Anthony Scaramucci.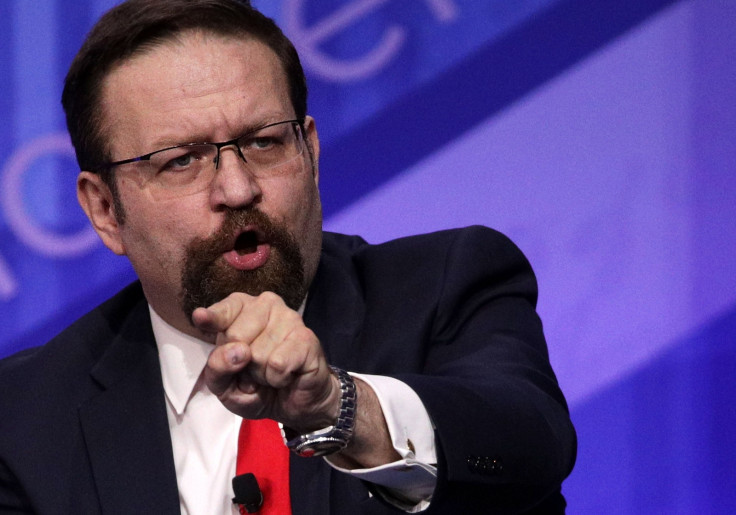 © Copyright IBTimes 2023. All rights reserved.