Liverpool council and police have said preparations are in place for the planned march through the streets by white supremacist group National Action.
Around 150 members of the far-right group are expected to take part in the White Man March through Liverpool city centre on 15 August, a move which has caused outrage among residents and anti-fascists groups.
National Action, which is believed to have members from across Europe, staged a similar demonstration in Newcastle on 21 March, just a few weeks after "anti-Islamisation" group Pegida held its first ever rally in UK, also taking place in Newcastle.
National Action, described by Hope Not Hate as attempting to mimic "ultra-nationalist street gangs" in Europe, is still relatively small compared to more high-profile right-wing groups. Its profile has been raised recently due to the march in Newcastle as well as an unveiling of an "Anti-Racist is a Codeword for Anti-White" banner outside Nelson Mandela's statue in London.
Last October, one of its members, Garron Helm, was sentenced to four weeks in prison after being found guilty of sending anti-Semitic tweets to Labour MP Luciana Berger.
The group has recently been accused of threatening to cause a race riot if Liverpool mayor Joe Anderson attempted to cancel the scheduled march.

Anderson claims he was sent a letter by members of National Action which said: "God help you and your Liverpool vision if you interfere with our God given right of public expression and freedom of speech.
"We look forward to a National Action-packed weekend of ethnically-enriched chaos and mayhem. We may even pay you a visit if things are played against us. It's in your hands." The letter ends: "Only Bullets Will Stop Us!"
Anderson told the Sunday Mirror: "These people are trying to blackmail me and the people of Liverpool into allowing them to stage a racist march which no one here wants. We are proud of our diverse racial mix and I am appalled by this group. I will defend the right to freedom of speech until the day I die, but there is no place for anyone who seeks to incite racial hatred and violence. I have asked the police to halt the march and I am calling on the home secretary to allow me to forbid it before it even starts."
National Action denies sending the letter to Anderson, suggesting it was written by an agent provocateur. A spokesperson added: "Any individual claiming to represent National Action who makes such incriminating and ridiculous threats is an obvious fraud with the intent to disrupt our activities by inciting the authorities against our supporters."
The Anti-Fascist Network has already confirmed it will be holding a counterdemonstration. A spokesperson said: "In March this year, the first White Man March took place in Newcastle. Around 100 neo-Nazis marched through the city before burning gay, communist and Israeli flags, screaming: 'Hitler was right' and Sieg-Heiling at counter-protesters.
"Although small compared to other far-right protests, this was the largest and most explicit neo-Nazi march to take place in the UK since the 1980s. We expect to see more than the 100 they brought to Newcastle and if we want to stop their growth they must be opposed."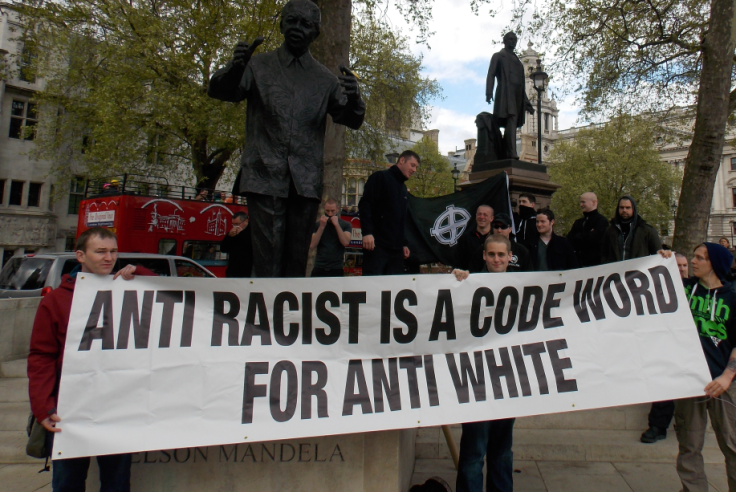 A Merseyside Police spokesperson said: "Merseyside Police will have a policing plan in place following the receipt of a notification by National Action to march through Liverpool on Saturday, 15 August from 2pm.
"A counter-protest march will also be taking place at earlier in the day, from 12pm in the city centre and at this stage it is unclear how many protesters will be taking place in either march. In accordance with the Human Rights Act 1998 the force is obliged to facilitate peaceful protest for both groups.
"Officers will be working with partners including Liverpool City Council and Mersey Travel to try to ensure minimal disruption to members of the public visiting the city centre on Saturday afternoon."
Update: National Action plans return to Liverpool following 'humiliating' appearance