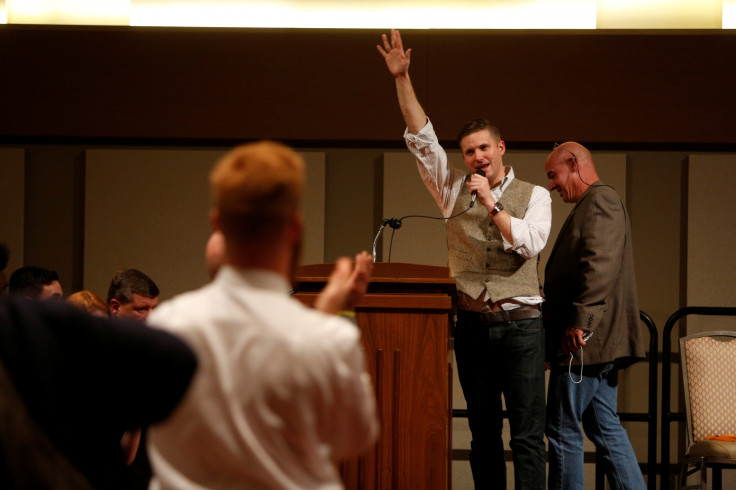 A white supremacist website is urging its readers to "take action" against Jewish people in a small Montana town, accusing them of upsetting the mother of prominent alt-right leader Richard Spencer.
The Daily Stormer, a far-right website that describes itself as the US's "most trusted Republican news source" claimed the Jewish residents of Whitefish have been harassing the mother of Spencer. They posted personal details of people in the area including phone numbers, addresses and photos with the Star of David embossed onto them.
The website called for a "Troll storm" against the "vicious, evil race" after claiming the business of Spencer's mother, Sherry, has been affected by backlash against her son.
The Daily Stomer cited an article from the Daily Mail claiming she is being forced to sell her business as "residents are rebelling against her son" as proof of harassment from Jewish people.
Spencer, a member of the National Policy Institute (NPI) who coined the term alt-right for the white nationalist movement, was recently filmed extending his right hand and shouting, "Hail Trump" at a conference in Washington DC and previously said the US "belongs to the white men".
The article on the Daily Stormer read:
The article then posted the contact details of several members of the group Love Lives Here – an organisation that fights racial, ethnic, religious discrimination across the Montana area, which the white supremacists refer to as a "Jewish terrorist group".
Will Randall, the organisation's chairman, described the article as "gut-wrenching". He told the Missoulian: "These are some of the best people around, and to see them attacked because they're Jewish or have a Jewish-sounding name is disgusting."
In response to the media reports about the 'troll storm'. Daily Stormer writer Andrew Anglin said: "This is an open and public harassment campaign against Spencer's mother because these Jews dislike her sons political views.
"I called for people to express their feelings about these threats and this harassment and extortion to the people responsible – and somehow I'm the threatener and harasser."
Sherry Spencer previously distanced herself from the views of her son. She told KTMF-TV: "As parents, we deeply love our son, as we always will. We unequivocally do not agree with the extreme positions espoused by Richard."