Who is Marion Maréchal-Le Pen? Marine's niece and the rising star of the National Front
The young MP is described as the National Front's secret weapon.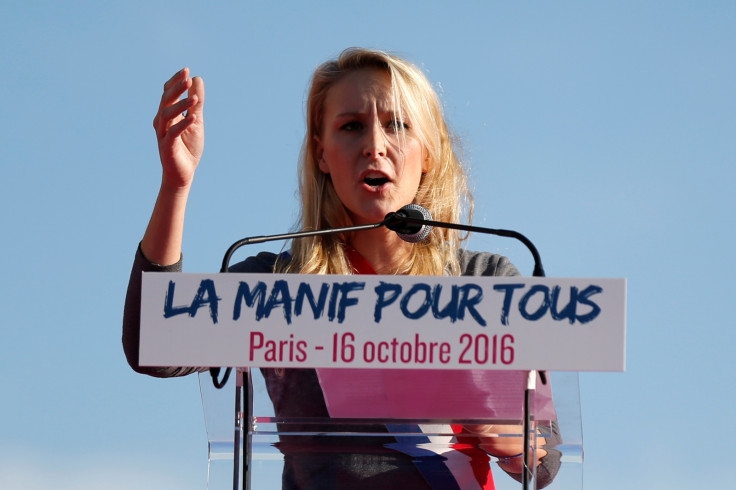 Front National MP Marion Maréchal-Le Pen is a rising star on France's political stage and has been touted as a future leader of the party.
Young and charismatic, she has won the hearts of France's disillusioned youth as well as mainstream conservatives with her tough stance on immigration and Islam and her traditional views on gay marriage and abortion.
Fact file Marion Maréchal-Le Pen:
Date of Birth: 10 December 1989.
Place of Birth: Île-de-France, Paris.
Education: Enrolled on MA Public Business Law at Pantheon-Assas University, but dropped out to pursue political career.
Career: Became an MP for the Front National (FN) at the age of 22 - the youngest French citizen to be elected. Became a member of the party's executive board in 2012. Chosen as a regional candidate for FN in Provence - got best result for FN candidate but lost to Nice's Republican Mayor Estrosi.
Family: divorced. Granddaughter of Jean-Marie Le Pen and niece of Marine Le Pen.
Here's everything you need to know about Marine Le Pen's niece and second in command.
Youngest MP in modern history
Maréchal-Le Pen followed in her family's footsteps to become a leading member of France's far-right Front National (FN) party. Her grandfather, Jean-Marie Le Pen, founded the party in 1972, and her aunt, Marine Le Pen has been the party's leader since 2011 and is a frontrunner in the presidential election.
In 2012, Maréchal-Le Pen defeated Jean-Michel Ferrand, who sat in the National Assembly for 26 years, to become the MP of Vaucluse, in the south-east of France. Aged just 22, she became the youngest MP to enter French parliament in modern political history.
Rise within Front National
The young MP is incredibly popular among Front National voters. When she ran as a regional candidate for Provence in 2015, she won 45% of the votes, only narrowly losing to Nice's Republican Mayor Estrosi, and obtained the best result of all FN candidates, including Marine Le Pen.
The charismatic politician has won the hearts of the party's traditional base. "She touches my heart every time she speaks. Marion is the one that really understands us," former construction worker Hervé Moreau told the Financial Times on 31 March.
"She can attract the type of disenchanted socially conservative Fillon voters who care about abortion and gay marriage," according to Stanford Professor Cécile Alduy, a specialist on the Front National.
Conservative values
While her aunt Marine Le Pen has shifted to the left in recent months on issues such as abortion, gay marriage and the death penalty, in an attempt to broaden her party's appeal and win over left wing voters living in industrial areas, Maréchal-Le Pen's tough stance on these issues as well as immigration and Islam has won her the support of mainstream conservatives.
She told the FT that the right to asylum is "an extraordinary trick" that has allowed immigrants into the country, who bring "terrorism" into France.
Her conservative stance on abortion and gay marriage have made Maréchal-Le Pen a darling of the religious right. She told The Telegraph in 2016 that she is opposed to gay marriage as it "opens the door to polygamy."
"Once you break away from the natural framework of a man and a woman, you could have other minorities who want their form of love recognised by the state. If you endorse homosexuality [in marriage], why not polygamy?" she said.
She is devoted Catholic who opposes gay adoption as she believes that parents "aren't interchangeable" and that a child should have both a mother and a father.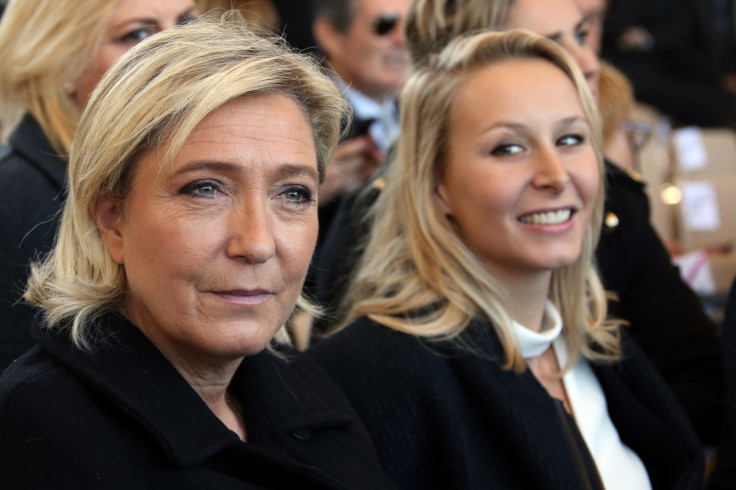 Tense relationship with Marine
Maréchal-Le Pen has a tempestuous relationship with her aunt. Marine Le Pen described her niece as "quite inflexible" and "uncompromising" in an interview with French women's magazine Femme Actuelle on 27 March. "As for my niece's place, she's an MP and I don't owe her anything," she said.
In 2016 the two had a public argument about abortion after Maréchal-Le Pen said she opposed the procedure being fully funded by the state.
As opposed to her aunt - who infamously fell out with Jean-Marie Le Pen - Maréchal-Le Pen remains close to her grandfather. "It would be idiotic to say that I am not the ideological heir of my grandfather," she told the FT. She has praised her grandfather as a "visionary" and strongly opposed her aunt's decision to expel him from the party in 2015 over anti-semitic comments that gas chambers in the Holocaust were a "detail" of history.
© Copyright IBTimes 2023. All rights reserved.