Presumptive Republican nominee Donald Trump has been keeping the media on the edge of its seat as he contemplates who he will chose as his running mate.
After narrowing his list down to three contenders, rumours began to spread that Trump had chosen the Indiana Governor Mike Pence as his vice presidential pick.
On 14 July, it was revealed that Pence was dropping his re-election bid to join the Republican presidential ticket. Despite the development, Trump's campaign and the candidate himself maintained he had not made his "final, final decision".
To further complicate the issue, Trump said he was delaying his formal announcement scheduled for 11am on Friday (15 July) in the wake of the attack in Nice, France.
According to the IndyStar, the delay could leave Pence in "political limbo". Pence, who has already travelled to New York to join Trump, has until noon on Friday to withdraw from the governor's race and allow Indiana Republican leaders to select a replacement candidate.
Pence, who was part of a running mate shortlist including former Speaker of the House Newt Gingrich and New Jersey Governor Chris Christie, is well known in conservative circles.
In 2015, he became recognised nationwide after signing a religious freedom bill into law that would give Indiana business owners legal protection if they did not want to participate in same-sex weddings due to their religious beliefs.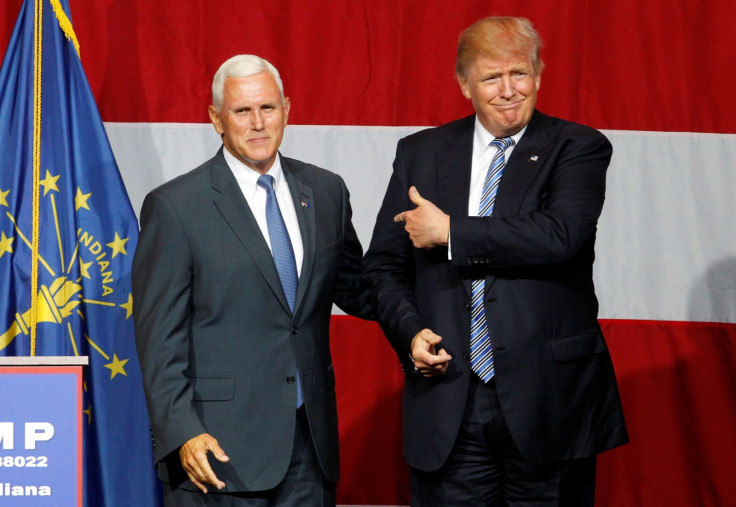 According to The Washington Post, Pence is a "social conservative" who signed one of the strictest abortion laws in the US. The softly-spoken governor was also an early advocate of the Tea Party movement, which voted against big spending bills that became so hated by the group's members.
Despite reportedly being Trump's vice-presidential pick, Pence actually endorsed his rival, Texas Senator Ted Cruz, during the primary season.
The Post reported that days before the Indiana Primary, Pence endorsed Cruz with a slight caveat, saying he was "not against anybody" in the race. When Cruz lost the state and dropped out, Pence said he would support the bombastic billionaire as the party's nominee.
CNBC reported Pence served six terms in Congress before becoming governor of Indiana. During that time he chaired the conservative House Republican Study Committee, was chairman of the House Republican Conference and served on the House Foreign Affairs Committee. In 2006, he challenged John Boehner for the GOP's leadership position in the House and lost, 168 to 27.
While Pence is a conservative darling, he actually grew up as a Democrat, the Post revealed. "It may be that I grew up in a big Irish Catholic family like he did. Maybe it was that my grandparents were so proud of the first Irish Catholic president," he told CBN News in 2010.
It remains to be seen if Trump will announce Pence as his running mate before next week's Republican National Convention in Cleveland, Ohio. The convention will take place between 18-21 July and will be followed a week later by the Democratic National Convention in Philadelphia, Pennsylvania between 25-28 July.