Who is Nicholas Medforth-Mills? British lovechild and pretender to the Romanian throne
KEY POINTS
Former public schoolboy attended former King Michael's funeral despite lovechild scandal.
Royal formerly known as Prince Nicolae was stripped of title in 2015.
Royal 'black sheep' and his fiancee now seen as Romania's answer to Harry and Megan.
Thousands of Romanians lined the streets of Bucharest on Saturday 16 December to pay their last respects to former King Michael following his death aged 96.
King Michael, who twice ruled Romania between 1927 to 1930 and again between 1940 and 1947, was forced to abdicate from the throne following a post-war Communist takeover of Romania which led to the abolishment of the monarchy.
The former royal then spent the next five decades in exile before returning to Romania in 1992 and regaining his citizenship in 1997.
He remained a hugely popular figure in the country and his funeral ceremony was a grand affair attended by current and former Monarchs across Europe, included Prince Charles, Swedish King Carl XVI Gustaf and Queen Silvia, and Spain's former King Juan Carlos and Queen Sofia.
Also in attendance following weeks of speculation was the former King's only grandson Nicholas Medforth-Mills, a 32-year-old Brit who was stripped of his title of third-in-line to the throne after allegedly fathering a child out of wedlock.
Medforth-Mills, formally known as Prince Nicolae, was the son of the late Robin Medforth-Mills who married the king's second daughter Princess Elena.
The former public schoolboy, who has lived in the UK since the age of five, was controversially stripped of his claim to the throne following a dispute with King Michael that he fathered a child following a one-night stand.
Princess Elena then also criticised him publicly following an attempt to break into the King's home in Switzerland to pay him a visit.
Medforth-Mills accused the other members of the royal household of attempting to play a "dirty game".
He wrote on Facebook: "These statements gravely harm the image of what the Royal House should be, its history, its values and its dignified stance which my grandfather and his forebears tried to live by and keep.
"I, Nicholas, just wanted to see my grandfather and say goodbye to him in a peaceful, respectful and Christian way."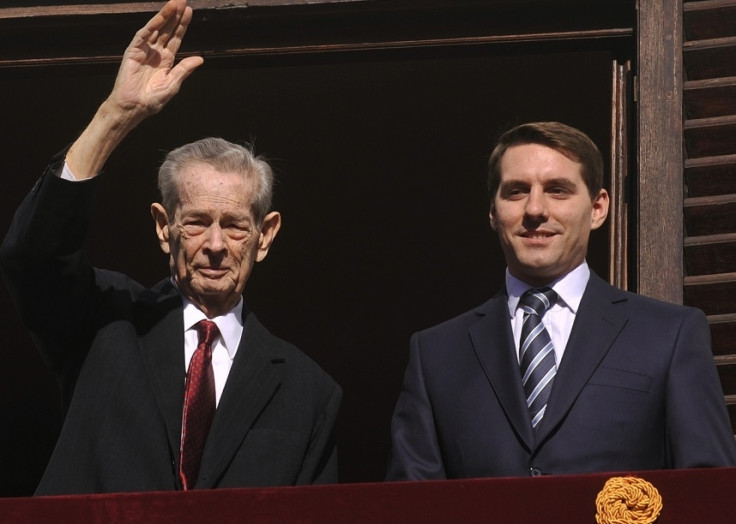 Despite the controversy, the former prince is seen as a popular figure against in Romania, with his appearance at King Michael's funeral only helping his endearment to the Romanian people.
His engagement to Alina-Maria Binder, reportedly seen as Romania's answer to Prince Harry and Meghan Markle, has also done his public image no harm.
US historian Marlene Eilers Koenig who knew King Michael, told the Sunday Times: "Nicholas has become very popular. But there have been signs that other members of the family resented his popularity."
As noted by Reuters, the passing of King Michael will mean the Romanian royal family's relevance will likely fade, since his children have little public standing. Princess Margareta, the former King's eldest daughter, remains custodian of the crown.