Who is Oren Hazan? Controversial Israeli leader's stolen selfie with Trump sparks controversy
Despite PM Benjamin Netanyahu's efforts, Hazan got his selfie and posted it online.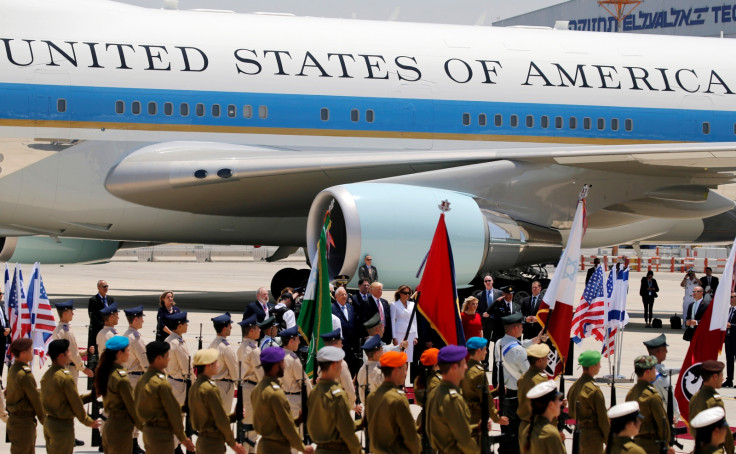 Everything was going fine when US President Donald Trump arrived at the Ben Gurion International Airport in Israel on Monday, 22 May.
Upon arrival, Trump and the first lady Melania were greeted by Israeli President Reuven Rivlin as well as Prime Minister Benjamin Netanyahu and his wife Sara.
However, things got a little offbeat when a scandal-plagued Israeli parliamentarian stepped into the scene and pulled Trump aside to take a selfie with him. Oren Hazan also ignored PM Netanyahu efforts to keep him away from the US president and posted the picture online.
The stolen selfie of Hazan has not only sparked an array of online humour and controversy but has also annoyed the Israeli PM.
"It's a real embarrassment. He should be sanctioned over this," one senior Israeli official said, adding that the troublemaker lawmaker was not supposed to be standing in the line of dignitaries welcoming Trump.
"Unfortunately, a number of people who were not included on the list of senior staff snuck into the handshake row and despite the entreaties of the Foreign Ministry staff, refused to leave the line," Foreign Ministry spokesman Emmanuel Nachshon said.
The selfie had already got 17,000 "likes" on Hazan's Facebook page within a few hours of being posted. "We have to get Oren Hazan out of parliament and the sooner the better," Benjamin Lachkar, a member of Likud's central committee, said on Facebook.
Some Facebook users have even tagged the photo in various ways, calling the duo "Dumb and Dumber", "Bert and Ernie" and "Hail Hydra".
However, it seems Hazan – no stranger to deliberate publicity grabs and controversies — and Trump share a deep connection with each other.
"I told Trump that they say I'm the Israeli Trump, I told him how excited I was, and that I was a fan of his from the start and then I told him, 'They need more people like us,'" Hazan told the Ynet news site moments after the incident.
"And then I just added, 'What do you say — can we do a selfie? And he said go ahead,'" the controversial leader added, who only follows one account on Twitter and that is Trump's.
He even admitted that Netanyahu was less than thrilled about the selfie, but said that Trump was excited. "It was for me — and I think for him also — a historic moment," he said.
Who is Oren Hazan?
Son of former parliamentarian Yehiel Hazan, Hazan is a member of Prime Minister Netanayu's Likud party, but he was suspended in 2015 after an investigative report alleged that he ran a casino in Bulgaria, where he sampled drugs with guests and got prostitutes for them.
He was also suspended for one month from any parliamentary activity in December 2015 after he insulted a colleague with a disability. His immunity as a deputy Knesset speaker was stripped but he still remains a lawmaker.
Hazan seems to be a long-time fan of Trump, and even likes to be compared with him.
In 2016, in an interview with the Jerusalem Post, he had said, "The politicians and media laughed at him and made him into a clown. But in the end, the people are voting for him because he says what they think out loud."
© Copyright IBTimes 2023. All rights reserved.