Initially considered the "hot favourite" by bookmakers and commentators alike, Stephen Elop, 50, left Microsoft in 2010 to become CEO of Nokia, where the twilight of his tenure saw the ailing Finnish phone maker begin to recover ground lost to Apple and Google.
A major milestone in these efforts was the decision to partner with Microsoft and adopt its Windows Phone operating system, replacing Nokia's aging Symbian platform.
While on paper the Canadian's reign at Nokia looks disastrous - profits fell 95% - the company has survived, capitalising on a failing BlackBerry to help take Windows Phone from outsider to a clear third place behind iOS and Android.
Whether he gets the CEO job or not, Elop will be returning to Microsoft in 2014 as part of the company's acquisition of Nokia's phone making business, bringing Windows Phone software and Lumia hardware together under one name.
Microsoft is looking for only its third CEO in 38 years - a statistic that may sit uncomfortably with Elop, who has a track record of jumping between companies (either by choice or through acquisition) on a regular basis.
Boston Chicken
Elop worked as the CIO of Boston Market (US restaurant formerly known as Boston Chicken) for six years until it filed for bankruptcy in 1998; he then spent seven years at Macromedia, a graphics and web development software company.
At Macromedia, Elop worked in various senior positions as the company benefited hugely as the internet and web businesses started to boom. Elop became CEO just three months before the company was acquired by Adobe in April 2005, where he became president of worldwide field operations (mostly comprising channel sales and retail), but his employment at the Photoshop developer lasted just one year.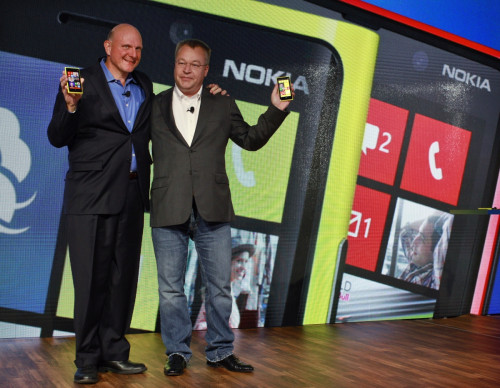 Microsoft, Round One
Elop moved to network equipment manufacturer Juniper, where he worked as chief operations officer for one year until January, 2008, when he left to lead Microsoft's business division; in this role, Elop was responsible for the Office and Dynamics product lines, including the launch of Office 2010.
Two years after joining Microsoft it was announced that Elop would depart to become the CEO of Nokia, replacing Ollo-Pekka Kallasvuo to become the first non-Finnish director in the company's 139-year history.
Although Elop's move to Nokia proved lucrative - he was given a $6 million (£3.7m) signing fee, plus a $1.4m annual salary - he joined a company drowning under pressure from Apple, Google and Samsung, with the latter soon to overtaken Nokia as the world's largest mobile phone manufacturer.
Soon after joining Nokia in September, 2010, Elop issued his now-infamous 'Burning Platform' memo, which likened Nokia's position at the time to that of a person standing on a burning oil platform. The following year Elop would free Nokia from its ageing Symbian software, kill off Meego before it ever launched, and partner with Microsoft to announce its Windows Phone operating system as Nokia's sole software platform.
Uptake was slow at first, but Nokia's Lumia smartphone brand would become the widest adopter of Windows Phone, helping the Finnish company define itself as the leader in smartphone camera technology with its PureView photography brand.
Microsoft, Round Two
Elop's actions at Nokia were substantial and felt right across the company. He laid off more than 20,000 staff and closed down several company facilities due to budget cuts, leading some to question whether he was drafted into Nokia as a trojan horse to prepare the company for a buyout by Microsoft.
Elop denied these accusations, but admitted he was "very sensitive to the perception and awkwardness of the situation."
When Ballmer announced on 23 August he would retire within 12 months, Elop was immediately thought to be in the running, an opinion immeasurably strengthened by news just a week later that Microsoft would buy Nokia's phone-making business, returning Elop to the software company.
After being branded the "hot favourite" by bookmakers and given odds of 2/1 for replacing Ballmer, Elop's chances of taking control of Microsoft were later described by insiders as "less likely" but he remains in the running, yet to speak publicly on the recruitment process.
Through his past and future Microsoft employment Elop has his foot wedged firmly in the door of Ballmer's office, but his chequered career and inability to stay anywhere for long could be at odds with Microsoft's multi-year game plan.
Who are Stephen Elop's rivals for the top job at Microsoft?