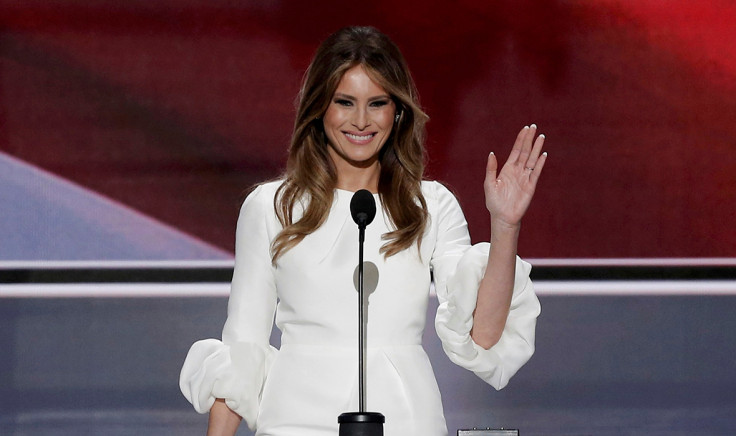 Donald Trump's Inauguration ceremony once again put the spotlight on wife Melania and her sartorial choices. After much back and forth on a list of designers, it seems like American fashion legend Ralph Lauren has emerged as the frontrunner to dress the incoming First Lady on Friday (20 January).
According to Women's Wear Daily, the fashion tycoon is set to create a gown and an Inauguration Day ensemble for the future first lady. The Slovenian-born former model seems to be turning back to his designs once again after previously donning a $4,000 white Ralph Lauren pantsuit on Election Night.
Apart from Lauren, the same magazine also lists Karl Lagerfeld as another contender who could dress Melania for the swearing-in of her husband as president of the US.
Lauren was extensively linked to Democratic candidate Hillary Clinton's team during her election campaign and is credited for styling Clinton in memorable red, white and blue pantsuits. When the Democrat wore her purple and black suit for her concession speech, it was seen as a symbol of nobility, power and suffragist value – dignity.
"I didn't know the significance of that colour," The 77-year-old told the Telegraph . "But Hillary's people did. I just knew it looked beautiful on her."
With Lauren and Lagerfeld's name emerging as frontrunners to dress the incoming first lady, reports claim that it's a significant departure from previous traditions, when the occasion was used to highlight little known designers. Michelle Obama famously wore a Jason Wu attire, while Clinton and Laura Bush both opted for gowns from locally-known designers.
Melania's journey to the White House has been mired in controversy, as top designers had refused to dress her earlier. Explaining his point of view, Ford had said, "She's not necessarily my image."
"The first lady – other than the fact that I'm a Democrat and voted for Hillary [Clinton] and [am] very sad and disappointed that she's not in office — even had Hillary won, she shouldn't be wearing my clothes," the iconic designer had explained.