Back in 1998, when the internet was still being explained like this, sending an email into space was still seen as the something only achievable in science fiction films.
This may go some way to explaining the significance given to Bill Clinton using a Toshiba Satellite Pro laptop on 7 November to send the first ever presidential email into outer space.
Here's Clinton's message in full:
"Thanks for your message. Hillary and I had a great time at the launch. We are very proud of you and the entire crew, and a little jealous. We can't wait for you to get home so we can have a first hand report. Meanwhile back on earth, we're having a lot of fun with your adventure. At a camp rally in Queens, I asked an 83 year old lady what she thought of your trip. She replied that it seemed like a perfectly fine thing for a young man like you to do! I hope your last few hours go well. Give my best to the rest of the crew."
Clinton was communicating with Nasa astronaut John Glenn who the previous evening had sent his first email from space, telling Clinton: "This is certainly a first for me, writing to a President from space, and it may be a first for you in receiving an E mail direct from and [sic] orbiting spacecraft."
Floppy disk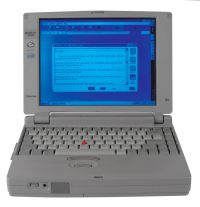 The laptop in question, which is now up for auction, actually belonged to White House physician Commander Robert G. Darling and both historic emails are stored on the laptop's hard drive, as well as on a floppy disk which comes with the computer.
For younger readers who don't know what a floppy disk is, here's an explanation.
The lucky winner of the auction will also receive a colour 10 x 8 official White House photo of Clinton and Darling together with the computer, inscribed by Clinton with the message:
"To Rob Darling—with thanks not only for keeping me healthy but for getting my message into outer space!—Bill Clinton."
Other added extras include:
A two-page typed memo on White House letterhead by Darling explaining the circumstances that led to the email exchange
A copy of a letter from the Department of the Navy advising Darling that it is legal for him to sell the computer
A typed letter by Darling explaining various specifics about the computer itself
Instructions on how to access the email files
So far the auction has attracted 17 bids, with the highest currently being $45,960 (£27,355) having started out with a reserve of just $10,000.
Unlike today, email communications were not widely used at the time by the leader of the free world, with Clinton saying in a 2000 interview that he felt emails were just not secure - and given the recent spate of revelations regarding the NSA, he may have been on to something.