An investigation has been launched by police in Sussex, UK, after a rogue group of alleged Turkish hackers targeted the website of a local primary school. Law enforcement said it may offer reassurance patrols after the "malicious" incident left parents concerned.
The website of North Mundham Primary in Chichester was defaced to show a white background with a red badge-shaped logo often associated with a group called "Ayyildiz Tim".
It displayed a message, which contained an English translation, included the statement: "Hello admin system hacked."
An explainer at the bottom of the website consisted of a lengthy statement by those purporting to be Ayyildiz Tim about using cyberattacks as a "lobbying" force.
It made little to no real sense. At the time of writing (24 April) the defacement is still live.
In a statement posted to Facebook, Sussex Police said: "The images and general content of the hacked site have caused concern among parents about the safety of their children at school.
"Sussex Police would like to reassure both parents and staff alike, that initial investigations have not identified a specific threat in relation to this activity.
"The nature of the hack would appear to be largely malicious in nature and Sussex Police have not received any credible or specific intelligence that would lead us to recommend children are kept away from school.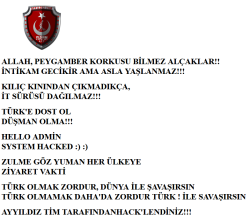 "This will be kept under constant review into Monday 24th April, and any change in circumstances will be communicated.
"Sussex Police will continue to investigate and will liaise with the school in the morning, deploying reassurance patrols should this be deemed necessary."
According to HackRead, the same cybercrime group hacked Ethiopia's United Nations website in 2013, again posting a rambling statement about using digital attacks to retaliate against hackers targeting Turkey.
It remains unclear why it was riled up by a primary school.
If parents or staff have any further concerns or new information, please contact Sussex Police on 101 quoting reference 1137 of 23/04/17.