WiFi rat traps, selfie hairbrushes and musical tables: The crazy side of CES 2015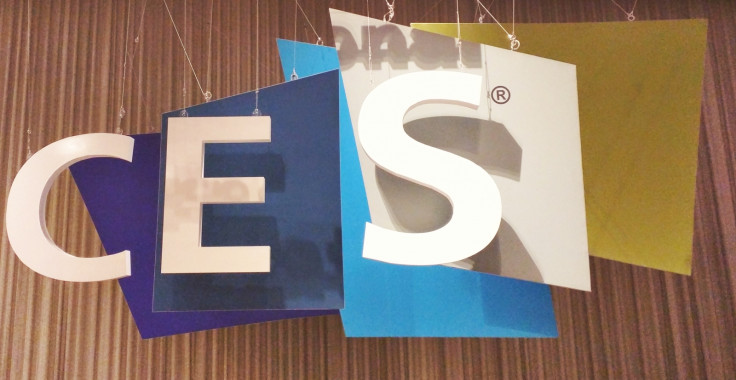 Technology is a strange and bewildering thing. At the Consumer Electronics Show in Las Vegas this week every facet of the industry was on display, from the tiniest Shenzhen-based iPhone cover manufacturer to Samsung flogging a 105in 4K TV that can go from curved to flat at the flick of a switch.
Beyond the implausibly glitzy booths from the big players at CES, however, lies a much more interesting world - the dark corners of the North Hall; the maze-like Hall A and the craziness of ShowStoppers - these are the places where I found the most interesting products on show.
They may not ever make it to a store near you, but they showcase the level of ingenuity that is out there and just how far technological tentacles spread.
Here is a walk through the zany, wacky, ludicrous and daft world of the Consumer Electronics Show:
---
The Raticator
---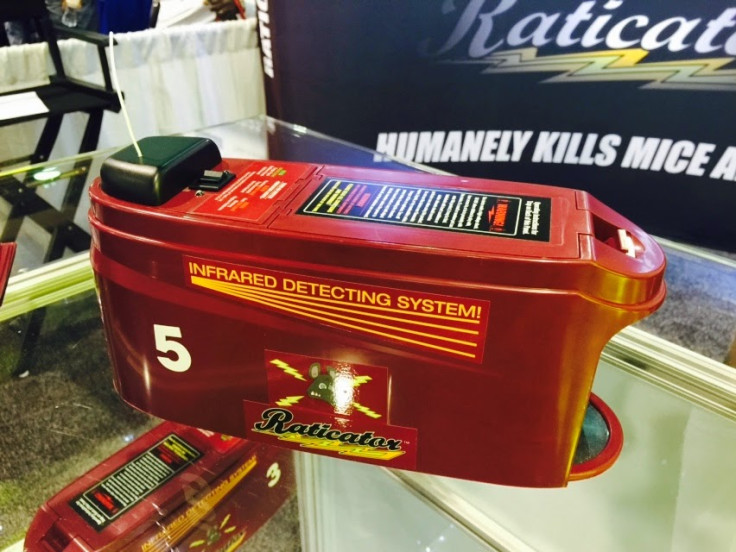 My favourite product I found at CES is a Wi-Fi-connected rat trap. The Internet of Things is the big topic of the show this year, with Samsung using its keynote to lay out its vision of a connected future - without any detail - and hundreds of products on show for the connected home, car and person.
Taking this to its illogical conclusion is the Raticator, a rat trap which electrocutes the rodents and - thanks to a Wi-Fi chip on the top - will also ping you an email or text message to tell you that there's one less rat in the world.
The guys at the stand at CES said it was perfectly safe for children, and what could be better than opening your inbox to find a message from your Raticator saying: "We got 'em".
---
Selfie Brush
---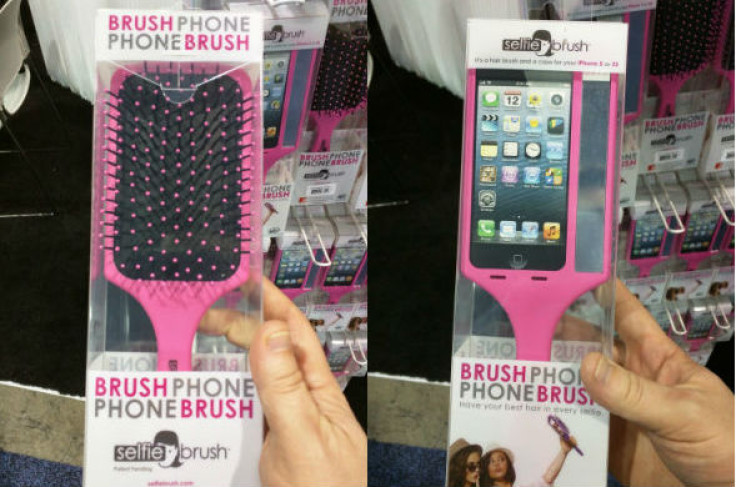 This may be the most ludicrous product I saw at CES, but considering I would have said the same thing had I seen a Selfie Stick at CES last year, I could just be completely out of touch.
The Selfie Brush is a brush, phone case, mirror and selfie accessory all in one. Slot your phone into a cut out on the rear of the brush and having made sure your hair looks great, you can use the handle of the brush to position the phone for the perfect selfie.
The Selfie Brush stand was located at possibly the loneliest corner of any CES hall, but considering the obsession with selfies at the moment, this time next year the Selfie Brush could have its own booth.
---
Wearable Bling
---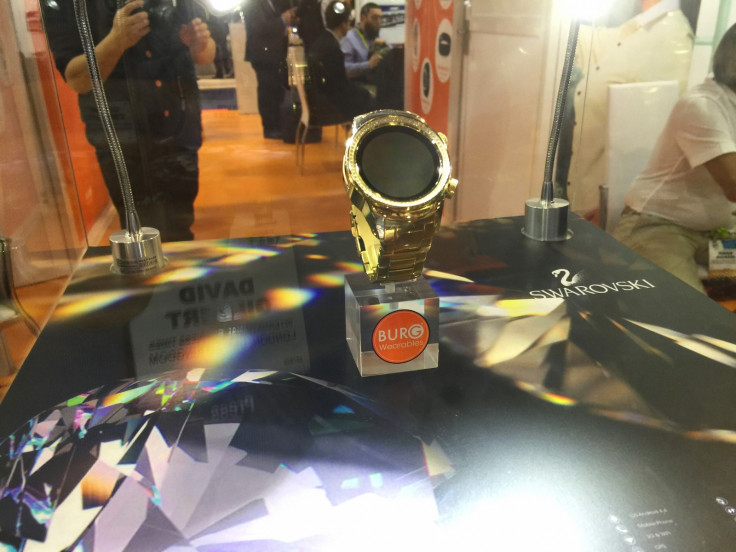 Smartwatches are, for the most part, a bit rubbish - and at CES this was borne out by the dozens of cheap, knock-off designs on show by no-name manufacturers from China. However, one watch stood out from all others (literally as it was in its own glass box).
The shining gold and sparkling diamonds of this blinging smartwatch from Burg instantly drew my attention, a glittering icon of consumerism.
Not only is it shiny, it is also able to operate entirely independently. No need for a smartphone here. Just slide a SIM card into the chunky case, power up the Android 4.4 operating system, and you and your shiny friend are good to go.
Costing up to $600 (its made of gold-coloured stainless steel and Swarovski crystals rather than actual gold and diamonds unfortunately) this understated and elegant timepiece will accentuate any outfit.
---
Dentistry - the game
---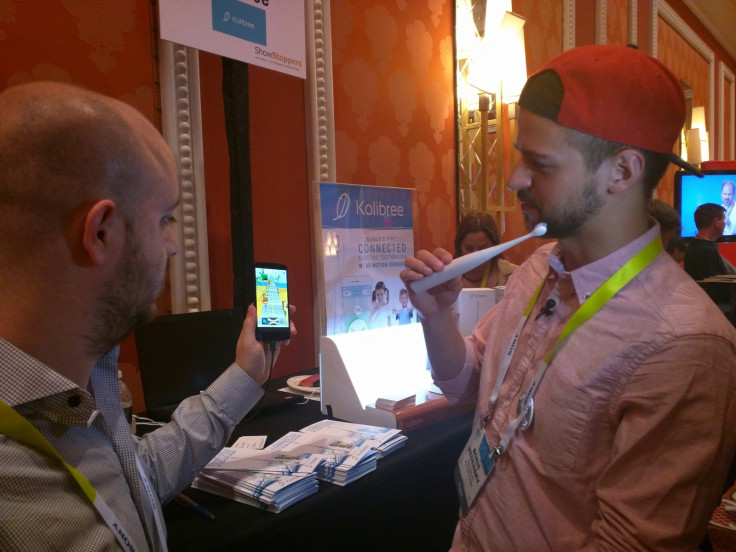 Making everything smart is no longer enough it seems. A connected toothbrush sounds like a good idea, but to make it really useful what could be better than turning it into a game controller?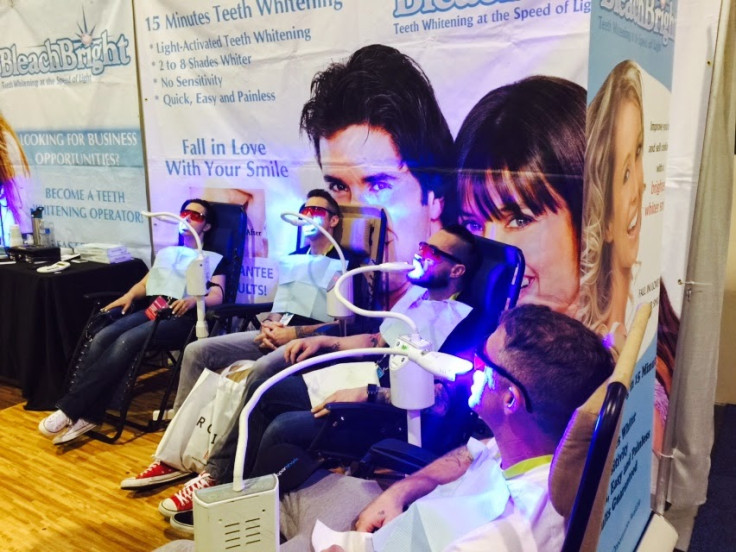 Whiten your teeth while you wait...
IBTimes UK
That is just what the guys at Kolibree have done with the world's first connected toothbrush with 3D motion sensors.
It means that along with a smartphone game, children will be able to control a character on-screen just by moving the toothbrush back and forth.
If playing games with a toothbrush is not your thing however, you could take a break from the madness of the CES show floor and look vaguely like a cyborg while whitening your teeth in just 15 minutes. Technology eh?
---
Is that table making noise?
---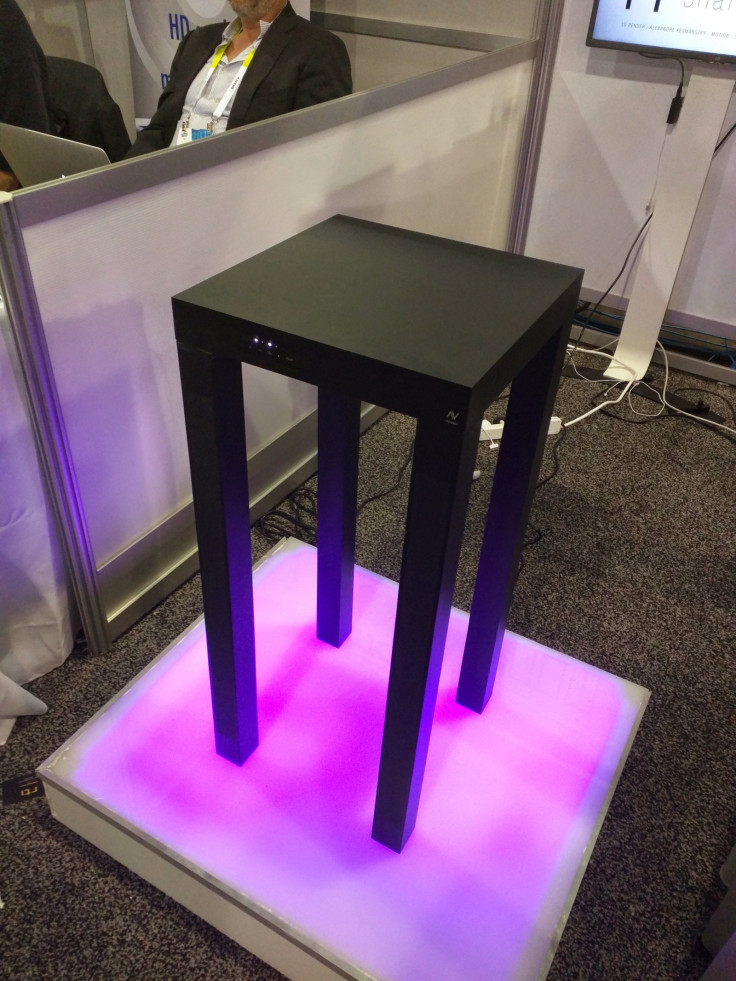 IBTimes UK
Everything is something at CES, and having initially walked straight past this stand, it managed to catch my attention - I circled back to find that music was coming through a table.
Note: there's ALWAYS music playing at CES and ironically this year most of time it was the song Happy.
The Nom Bluetooth Speaker Table, which will cost $299, eliminates the need to have a table and a speaker in your living room.
It can be paired with any Bluetooth enabled music source and for those living in really cramped spaces, it may actually be a good option.
---
Internet of guns
---
I've written about this already, but the Mile Maker from TrackingPoint is worth mentioning again. The high-powered rifle can help novice shooters make expert shots, but even more ludicrously, it is connected, meaning your family and friends can open an app on their smartphone and get a live video feed of what you are shooting.
What could go wrong...
---
Toshiba's eerie robot Geisha
---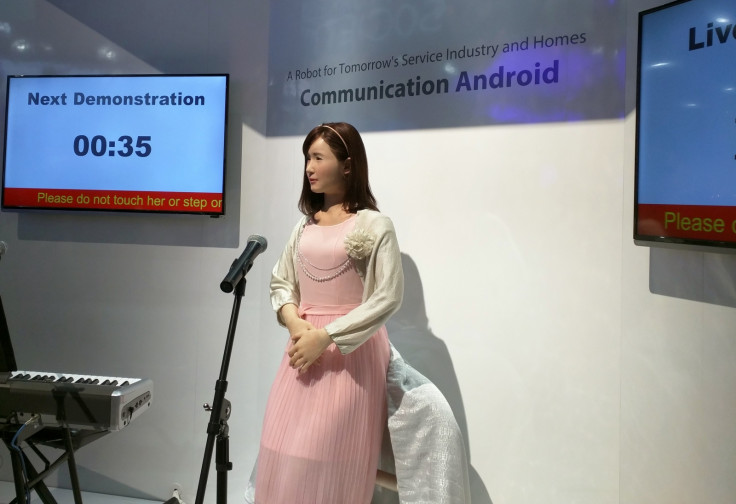 Robots were a big part of CES 2015, but the one that caught most people's attention was this android whose facial expressions were eerily realistic.
Named ChihiraAico, this humanoid robot told attendees in the Las Vegas Convention Centre that she was 32-years-old but was in fact 'born' in September 2014. She is a prototype Toshiba is developing to help create "effective communication between humans and non-humans".
Her movement is very robotic but her voice and facial expressions were unsettling and I found her difficult to watch for very long. ChihiraAico is set to be used with the elderly and those with dementia to help them connect with doctors.
Elsewhere, CES saw the launch of the world's first artificial intelligence personal assistant from New York startup Robotbase who played down the impact of the so-called Personal Robot saying it was a "revolutionary product that changes everything".
---
Omni video game controller
---
Virtual Reality is seen as the next big thing in gaming with Oculus and Samsung's Gear VR both on display prominently at CES this year. However, it was another virtual reality gaming accessory which grabbed my attention.
I remember when we first reported on the launch of Omni, a a virtual reality "treadmill" that allows players to control in-game running by physically running in the real world, and the CastAR glasses, which project digital images onto a reflective surface allowing viewers to move around them and view them in three dimensions.
At the time I thought it would never work and never become a reality. However, there in the South Hall at CES, was someone running on a treadmill wearing VR goggles and holding a gun. The queue to try it out was long, meaning I didn't get a chance myself, but considering how foolish the person above looked while using it, then maybe that was a good thing.
The unit on display at CES was the final design for the product which will ship in a few months time.
---
Rocket Roller Skates
---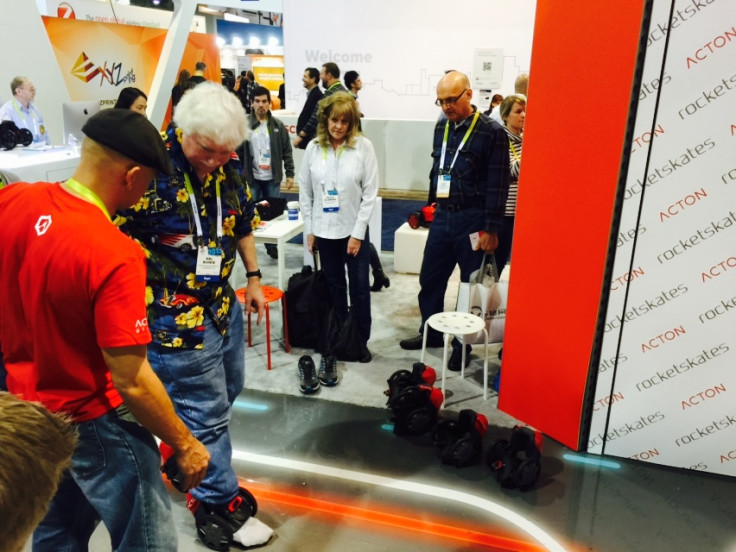 These are probably the one gadget at CES 2015 which I can't see anyone wanting to use. Acton's Rocketskates are not rocket-powered roller skates as I initially hoped for, but are electric rollers which clip on over your shoes.
I stood for a good 20 minutes at the company's stand watching a row of people trying to use them. Most had to remove their shoes before they could get them on, and once they did get them on, most were unable to get them to work.
A couple of the demonstrators tried their best to explain that you lean forward to accelerate and lean back to brake. None of the people I saw were able to get them to work and even if they did, all they would accomplish would be moving slightly faster than if they were walking.
Let's just hope for real rocket skates at CES 2016.
© Copyright IBTimes 2023. All rights reserved.