WikiLeaks deletes poll poking fun at Hillary Clinton's health following her pneumonia diagnosis
WikiLeaks scraps Twitter poll on Clinton's health as 'the possibilities are too speculative'.
Whistleblowing platform WikiLeaks has deleted a tweeted poll mocking US presidential candidate Hillary Clinton's health issues shortly after her abrupt departure from a 9/11 memorial ceremony in New York due to what her aides described as her feeling "overheated and dehydrated". Several hours after the episode, her personal doctor announced that the 68-year-old Democrat was diagnosed with pneumonia two days earlier.
"Secretary Clinton has been experiencing a cough related to allergies," Clinton's physician Lisa Bardack said in a statement released by Clinton's campaign on Sunday (11 September). "On Friday, during follow-up evaluation of her prolonged cough, she was diagnosed with pneumonia.
"She was put on antibiotics, and advised to rest and modify her schedule. While at this morning's event, she became overheated and dehydrated. I have just examined her and she is now re-hydrated and recovering nicely."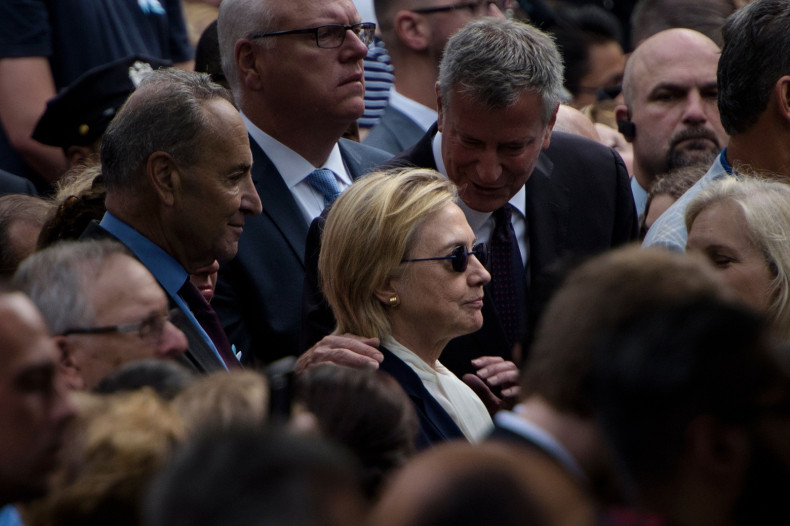 As news of her diagnosis spread, sparking further scrutiny into the issue of Clinton's health and her campaign's transparency, WikiLeaks decided to do away with an earlier poll that mockingly speculated about the reason behind Clinton's "coughing fits" and "unusual facial and body movements".
The organisation later acknowledged their decision to remove the poll on Twitter.
"We removed our earlier poll on what people perceive are the reasons for Clinton's medical issues as the possibilities are too speculative," the organisation wrote.
The organisation tweeted a "close up" YouTube video of Clinton's collapse that "shows her legs unresponsive and dragging on the ground".
The "medical episode" has once again put the issue of Clinton's health in the spotlight just two months before the general election as she looked wobbly and stumbled getting into a black van assisted by several Secret Service agents on Sunday.
After retreating to her daughter Chelsea's Manhattan apartment, Clinton emerged about two hours later, waving to onlookers and waiting cameras.
"I'm feeling great," she said. "It's a beautiful day in New York."
Earlier this month, WikiLeaks founder Julian Assange fired back at claims that he was interfering with the upcoming US elections, defending Republican Donald Trump and leaking information that could possibly be beneficial to Russia. In an interview with The New York Times on 31 August, Assange accused "the American liberal press" of "falling over themselves to defend Hillary Clinton" and "erecting a demon".
WikiLeaks posted a tweet later clarifying Assange's position saying: "No Assange didn't say Clinton is a 'demon'. The 'demon' is neo-McCarthyist hysteria elected by the liberal press."
In July, WikiLeaks published nearly 20,000 internal emails hacked from the Democratic National Committee that resulted in a wave of controversy and a number of high-profile resignations. Assange has recently offered financial rewards to any person willing to provide information on Trump and Clinton. He has also promised to publish more controversial material on Clinton before the election.