WikiLeaks founder Julian Assange met with a US Republican congressman for three hours on Wednesday (16 August) and reportedly promised additional specific information regarding the Democratic National Committee (DNC) leaks last year. Representative Dana Rohrabacher of California met with Assange during a gathering at the Ecuadorian embassy in London - the first time a US lawmaker has met with the founder of the notorious whistleblowing site.
"Our three-hour meeting covered a wide array of issues, including the WikiLeaks exposure of the DNC emails during last year's presidential election," Rohrabacher told The Hill. "Julian emphatically stated that the Russians were not involved in the hacking or disclosure of those emails."
Assange's lawyer Jennifer Robinson and a businessman named Charles Johnson were also present at the meeting.
Rohrabacher reportedly noted that he had "specific information" to convey directly to President Donald Trump.
"Julian also indicated that he is open to further discussions regarding specific information about the DNC email incident that is currently unknown to the public," Rohrabacher said. "We left with the understanding that we would be going into further details in the near future. The rest of the message is for the president directly and I hope to convey it to him as more details come in."
Rohrabacher said that he would also convey a request from Assange to give the WikiLeaks organisation a media seat inside the White House press room, adding that he "can't see a reason" why they shouldn't be given news status for official press events.
"Julian passionately argued the case that WikiLeaks was vital to informing the public about controversial though necessary issues," the congressman said. "He hoped that Wikileaks — an award winning journalistic operation — might be granted a seat in the White House press corps. As a former newsman myself I can't see a reason why they shouldn't be granted news status for official press conferences."
During the US presidential election campaign last year, WikiLeaks published a series of damaging and embarrassing emails from the DNC, Democratic candidate Hillary Clinton's campaign manager John Podesta and other top Democrats.
In January, US intelligence agencies concluded that Russian President Vladimir Putin ordered a complex, multifaceted "influence campaign" designed to denigrate Clinton, undermine American democracy and help sway the election in Trump's favour.
The 25-page report assessed with "high confidence" that the Kremlin directed the hacks on the DNC, Podesta and other top Democrats before passing on the stolen material over to WikiLeaks to publish online. It noted that Russian likely chose WikiLeaks due to its "self-proclaimed reputation for authenticity." A federal investigation into Russian meddling in the 2016 election and alleged collusion between Trump's team and Moscow is currently underway.
The Kremlin has dismissed the allegations as baseless while Assange has previously denied that the stolen documents and emails came from Moscow or any "state party."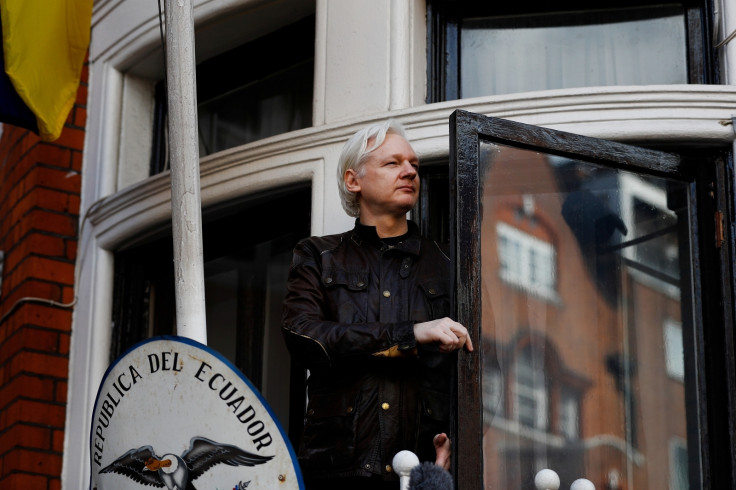 Assange has been holed up in the Ecuadorian embassy since 2012 to avoid extradition to the US where he could face charges of espionage over the publication of a slew of classified documents given to WikiLeaks by Chelsea Manning. Over the past few months, WikiLeaks has also released a trove of confidential CIA documents exposing the spy agency's wide-ranging hacking and cyberspying tools and capabilities as part of its "Vault 7" series of leaks.
Many Democratic and Republican lawmakers have previously blasted Assange as an enemy of the US and a threat to national security.
House Speaker Paul Ryan has previously slammed Assange as a "sycophant for Russia."
"Mr. Assange is a fugitive from the law, hiding in an embassy, who has a history of undermining American interests," Senator Lindsey Graham said earlier this year. "I hope no American will be duped by him. You shouldn't give him any credibility."