WikiLeaks says 'state party' has cut out Julian Assange's internet link amid death rumours
The whistleblowing platform confirms it has activated 'contingency plan' to safeguard data.
The official Twitter handle of WikiLeaks has said that a "state party" has intentionally cut out Julian Assange's internet link. The whistleblowing platform confirmed that it has activated necessary "contingency plans" most likely to ensure that any current and impending data published is not tampered with.
The tweet comes amid rampant rumours of Julian Assange's death, which were sparked on 16 October after three concurrent tweets containing cryptic codes were posted on the WikiLeaks account.

The three posts contained 64-character codes that led to rumours about Assange's death, as users on Reditt and Twitter assumed that the codes were tweeted out after a "dead man's switch" was activated.
Some users also suggested that WikiLeaks' recent data dump exposing Hillary Clinton and her campaign could have led to his untimely death. According to reports, such codes do exist. In June, WikiLeaks uploaded an 88GB worth "insurance file" meant to serve as a dead man's switch.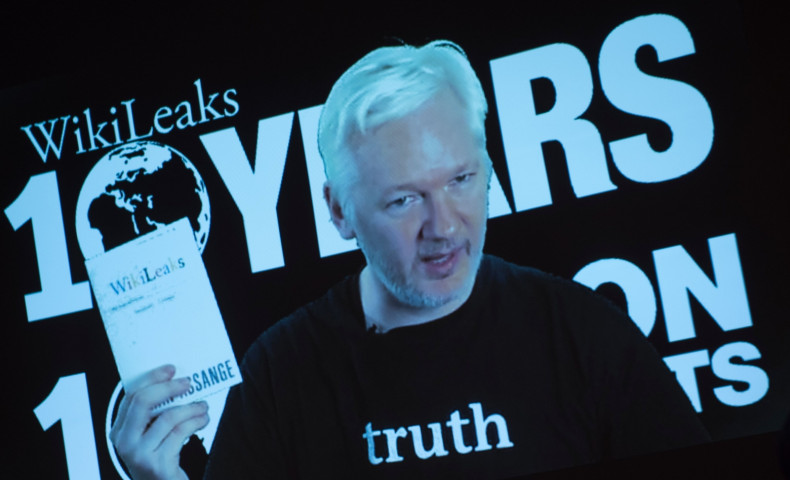 However, the recent three tweets may not be related to an activated dead man's switch. Further, WikiLeaks' most recent tweet also indicated that Assange is most likely alive, but cut-off from the internet and possibly unable to communicate online.
Apart from the cryptic codes, the three tweets posted earlier by WikiLeaks' also contained the words "pre-commitment". This indicates that the codes could be a reference to an auxiliary cryptographic scheme designed to ensure that any unreleased data is not tampered by external forces, Gizmodo reported.
This strategy has been used previously to digitally sound an alarm in case of a breach. In May, Tor Project developer Andrea Shepard posted a tweet with a code as a warning shot, which may have led to the exposure of Jacob Applebaum's sexual misconduct. In August, Edward Snowden also tweeted out a seemingly similar code, now deleted, which led to widespread speculation about his death.
Meanwhile, the identity of the "state actors" WikiLeaks blamed for the internet outage is not known, nor is there any clarity on how Assange's internet link was "severed".
Amid growing uncertainty about Assange's wellbeing, reports revealed that Baywatch star Pamela Anderson had visited him over the weekend at the Ecuadorian Embassy in London. Anderson, who was spotted outside the Ecuadorian Embassy carrying Pret a Manger paper bags, said that Assange had jokingly claimed that she "tortured him with bringing him vegan food".
The former Playboy cover girl expressed concerns for Assange and his family after her recent meeting. "I really believe in him and think he's a good person, and I'm concerned about his health, his family, and I just hope that by some miracle he's set free," she said.